Fulton County Hosts 3rd 2021 Empowering Entrepreneurs Webinar Series Market Your Business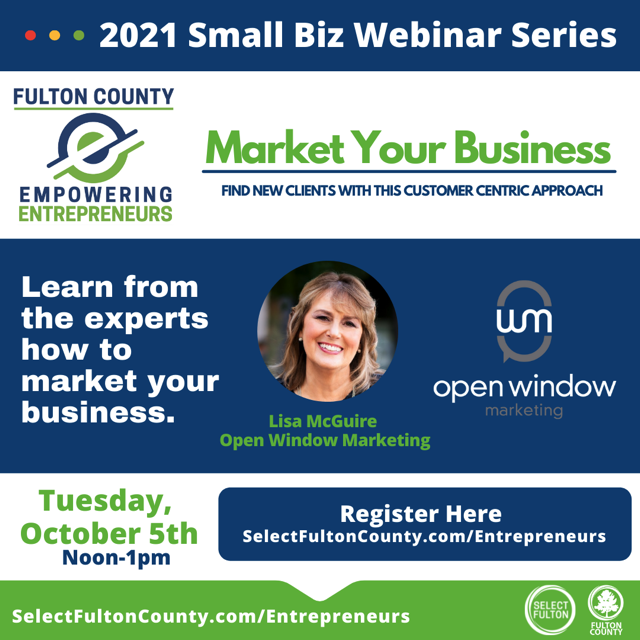 Fulton County Hosts 3rd 2021 Empowering Entrepreneurs Webinar Series: Market Your Business
Recognizing the importance of small business and entrepreneurship, Fulton County, in partnership with its economic development initiative, Select Fulton, is hosting the third 2021 Fulton County Empowering Entrepreneurs Webinar Series on
Tuesday, October 5th, 2021 from 12:00 p.m. to 1 p.m. via Zoom
. To further support small business and entrepreneurs, the webinar series will feature regional thought leaders and subject matter experts who will discuss opportunities and resources available to help leaders grow their business in Fulton County.
"As a civic leader, I know it is critical that we support our entrepreneurs and small businesses in Fulton County," said District 2 Commissioner Bob Ellis. "Knowing how to connect with your customers to grow your business is essential for small businesses to thrive."
This third webinar will focus on small business marketing. Learn from the experts at Open Window Marketing how to find the right clients, have a customer-centric approach and build your companies story.
Lisa McGuire, owner of Open Window Marketing has nearly 20+ years of marketing experience with service-based businesses, start-ups and non-profits. She launched Open Window Marketing to meet the need for clear and authentic messages.
Future events will focus on small business needs such as tax planning. Representative organizations have included the Small Business Development Center and Access to Capital for Entrepreneurs.
"More than 92% of all business in Fulton County having four or less employees," Select Fulton Deputy Director Samir Abdullahi said. "It is critical we continue to support and foster an environment that enables these important investors in our community to succeed.
To register for this free webinar, visit our website at:
https://selectfultoncounty.com/entrepreneurs
.
Select Fulton is Fulton County's Economic Development initiative, launched in 2016, bringing together the expertise of the Development Authority of Fulton County, a professional Economic Development team, and WorkSource Fulton. Learn more at
www.selectfultoncounty.com
.
Fulton County Hosts 3rd 2021 Empowering Entrepreneurs Webinar Series: Market Your Business 
Day: Tuesday, October 05
Time of the Event: 12:00 p.m. - 1:00 p.m.
Location: Zoom
Add to Calendar 10/05/2021 12:00 10/05/2021 13:00 America/New_York Fulton County Hosts 3rd 2021 Empowering Entrepreneurs Webinar Series: Market Your Business  Fulton County in partnership with its economic development initiative Select Fulton is hosting a webinar series. Zoom