Fulton Officials to Break Ground on new $38 Million Animal Shelter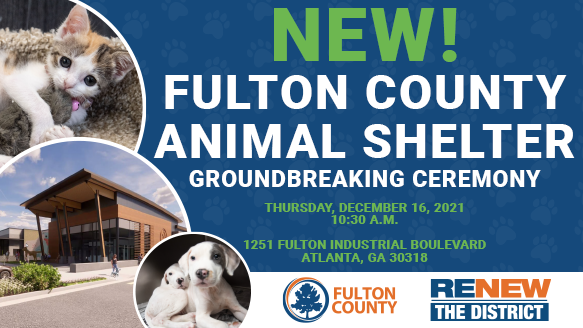 Fulton Officials to Break Ground on new $38 Million Animal Shelter
The county will break ground for new 50,000 square-foot facility on Thursday, December 16, 2021.
The Fulton County Board of Commissioners and other officials will break ground on the new Fulton County Animal Services facility on Thursday, December 16, 2021 at 10:30 a.m. at 1251 Fulton Industrial Boulevard, Atlanta, Ga. 30318.

In November 2019, the Fulton County Board of Commissioners unanimously approved construction of the new facility to replace the current Animal Shelter, which has been in use since the 1970's. After months of planning and strategizing, construction is set to begin on the new 50,000 square-foot facility, which will also include 13,200 square-feet outdoor covered space.

The new shelter will be constructed on land currently owned by Fulton County near the Fulton County Airport and is expected to open in early 2023. The $38 million project will be funded through the Fulton County Urban Redevelopment Authority bonds.

Fulton County Chairman Robb Pitts noted, "The residents of Fulton County care deeply about the treatment of animals. We've promised the community a new animal shelter for years and I'm excited to see this project come to fruition after extensive planning and preparation."

County Manager Dick Anderson said, "The planning to ensure the success of this project has been a collective effort combining talent and ideas from multiple departments within Fulton County. We are all excited to enter the next phase and look forward to opening our doors in the near future."

Alton Adams, Deputy COO for Public Safety and Justice said, "The new facility will allow us to better serve animals in Fulton County as well as the people who care for them. In addition to shelter space, the facility will include purpose-built spaces for pet adoption, veterinary services, training and socialization and more."

The Animal Shelter project is one element of Fulton County's "Renew the District" initiative, which includes multiple capital projects along the Fulton Industrial Corridor. Other elements include major upgrades to the Fulton County Airport, as well as planned construction of a new Fulton County Public Safety Training Facility.


Fulton Officials to Break Ground on new $38 Million Animal Shelter
Day: Thursday, December 16
Time of the Event: 10:30 a.m. - 11:30 a.m.
Location: 1251 Fulton Industrial Boulevard
Directions to 1251 Fulton Industrial Boulevard
Add to Calendar 12/16/2021 10:30 12/16/2021 11:30 America/New_York Fulton Officials to Break Ground on new $38 Million Animal Shelter The county will break ground for new 50,000 square-foot facility on Thursday, December 16, 2021. 1251 Fulton Industrial Boulevard