Sustainability
Fulton County Initiatives
Sustainability & resilience
Sustainability & resilience
In 2019, Fulton County Government and the Board of Commissioners made a critically important and historic commitment to sustainability and resiliency through the adoption of the Sustainability and Resilience Plan. The Plan was developed collaboratively in partnership with 2M Design Consultants, Inc., Khafra Engineering, Fulton County Citizens Commission on the Environment (FCCCE), community members and stakeholders, and various county departments including: Real Estate and Asset Management, Strategy and Performance Management, External Affairs and Public Works.
On February 16th, 2022, the Fulton County Board of Commissioners adopted updated goals for the 2019 Sustainability and Resilience Plan. A version of the original Plan that incorporates the updated goals is available here.
Our vision is to thrive as the premier county in Georgia for sustainability and resilience, protecting residents, visitors and environmental systems. Our mission is to deliver a transformational and straightforward sustainability action plan that incorporates resilience, social, environmental and economic responsibility, allowing residents and visitors to thrive now and in the future. The Plan seeks to achieve this vision and mission through six priority areas:
1. Climate Change Mitigation
2. Social Equity and Smart Transit
3. High-Performance County Infrastructure
4. Education and Outreach and Green Jobs Training Placement
5. Fostering Partnerships
6. Budgetary Appropriation
Information about progress made in each priority area can be found in the Priority Areas section of this webpage.
sustainability & resilience
featured news article
15 - Mar
College Park Health Center gets Solar Panels
College Park Health Center gets Solar Panels
Read More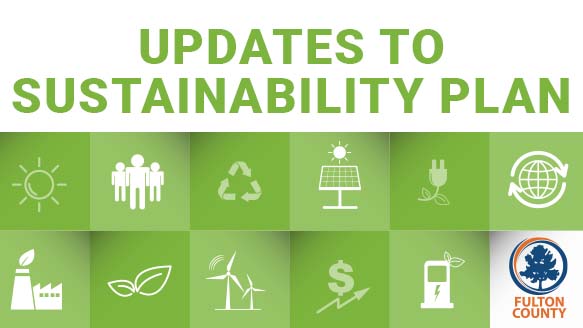 01 - Mar
Fulton County Board of Commissioners Approves Major Updates to its Sustainability Plan
Updates to the county's plan will work to accelerate sustainability efforts by 2030.
Read More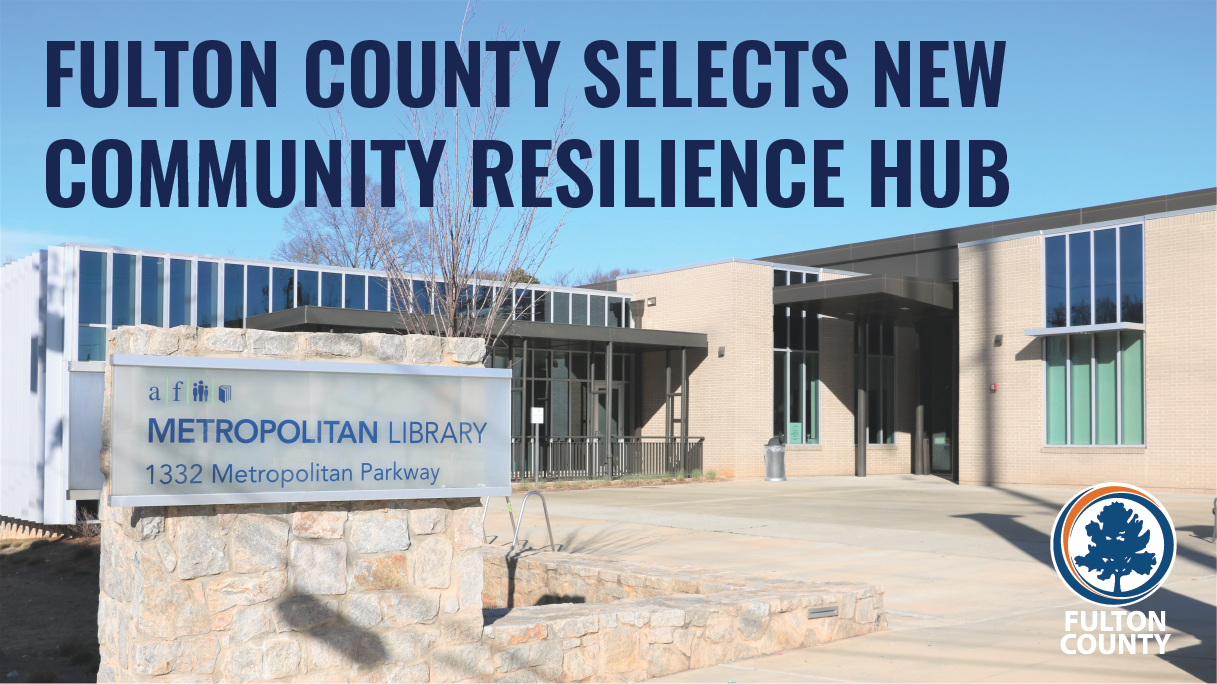 22 - Oct
The Metropolitan Library becomes Fulton County New Community Resilience Hub
The Sustainability Division of the Fulton County Department of Real Estate and Asset Management (DREAM) proudly announces that the Metropolitan Library will now serve in an expanded capacity as the county's first Community Resilience Hub.
Read More
See All News
sustainability & resilience
priority areas
Climate change mitigation
Develop renewable energy pilot study project by 2020
In 2019, the county installed its first solar installation at Cleveland Ave. Library First county facility to achieve Platinum certification under the LEED Green Building Rating System. County owns the system and received a $50,000 matching grant from the Georgia Environmental Finance Authority (GEFA). 30 kilowatt (kW) system and has generated 77,000 kilowatt-hours (kWh), saving $13,090 in electricity costs and 119,269 lbs. of CO2 emissions, equivalent to 901 trees planted.
Solar Energy Procurement Agreement (SEPA)


In 2020, the county executed a 20-year third-party financing agreement without any upfront capital invest or long-term O&M with Cherry Street Energy (CSE). CSE owns the system and county pays for the clean, renewable solar electricity produced at a reliable and competitive rate


Seven county facilities in phase 1 pilot with a solar capacity of more than 550 kW producing more than 850,000 kWh. To date, the county has saved approximately $11,600 in electricity costs from half of the active installations, avoided over $163,000 in construction costs, reduced carbon emissions by 108,000 lbs. or 66 acres of forest planted, and estimated to save up to $415,000 over the 20-year agreement.
At the end of 2021, we will have reduced our CO2 emissions (greenhouse gas) by an estimated equivalent of 637 metric tons through our eight solar projects. In order to meet our 25% reduction target by 2025, we need to reduce emissions by an estimated 6,374 metric tons CO2 per year.
Resilience Hubs
In 2019, Fulton County and Southface Institute were awarded a $300,000 grant over 2020-2022 from the Southeast Sustainability Directors Network-Southeast Sustainable Communities Fund to design and implement a Resilience Hub (Hub) at an existing county facility. Candidate facilities as the county's first Hub: Metropolitan Library, Neighborhood Union Health Center and Southeast Library. This is likely to be the first in the state and one of the first in the southeast region. After a robust analysis, assessment and engagement process spanning 2020 and much of 2021, Metropolitan Library has been selected as the site of the county's first Hub. The Hub's purpose is to enhance and improve community resiliency and adaptive capacity of vulnerable communities in times of emergency and crisis due to climate and social related shocks and stressors such as extreme weather events and public health pandemics, and on a daily basis. It will also support mitigating and adapting to climate change through clean and renewable energy generation and storage, and reuse of rainwater for irrigation and emergency potable water supply.
The Hub will be equipped with resilient power and water technologies including solar and backup battery energy storage, and rainwater harvesting systems. New programs and services related to green jobs education / training, youth development, health, transportation and resilience kits will be implemented. Additionally, improvements will be made to site operations and communications.
The project has facilitated outreach, engagement and education of more than 675 community members and residents
Resilient backup power via solar + battery storage average of 2,600 kWh and for a duration of up to 72-hours
Resilient water supply for emergency potable water and irrigation via rainwater harvesting system average of 15,000 gal. and for a duration of more than 1 month
Resilience kits for emergency and daily use for 150 community members and residents
Estimated amount of electricity (kWh) produced, stored, and used before, during and after major climate events


Metropolitan Library = 210,198 kWh of solar energy, 100 kW battery / 2,008 kWh of energy storage for 72-hr. resilience period
Amount of greenhouse gas emissions (tons) avoided annually


Metropolitan Library = 328,489 lbs. CO2
Improve energy efficiency at Fulton County buildings by 20% by 2025
Comparing our 2018 baseline energy use (654,094 Million British Thermal Units, MMBTU) to 2020 energy use (632,185 MMBTU), we have seen a 3.35% decrease in energy use. Achieving the 20% energy use reduction by 2025 will produce energy savings of 130,819 MMBTU, estimated utility cost savings of more than $2.5M, and greenhouse gas emissions reduction of 17,268 MTCO2e equivalent to 3,755 passenger vehicles driven for a year, 43,397,901 miles driven, or 2,079 homes energy use for one year.
32 LEED library projects administered in partnership by 2M Design Consultants; including one certified LEED Platinum (Cleveland Ave.), 17 Gold, 11 Silver, and three certified. This was made possible by the $275M bond referendum to construct and renovate the Library Branch System. The LEED green building rating system requires and incentivizes high-performance energy efficient buildings through measures such as sealing and insulating building envelopes, accurate design and sizing of HVAC, LED lighting and commissioning of equipment and systems.


County is also in the process of designing and constructing a new Animal Services Facility on Fulton Industrial Boulevard and targeting LEED Silver or Gold certification.
Social Equity and Smart Transit
Transition 20% of fleet to alternative fuel vehicles by 2025
We are in the process of assessing and prioritizing our fleet for conversion and replacement opportunities, as well as supporting infrastructure for county and public use such as electric vehicle charging at our facilities.
Estimated annual fuel cost savings from alternative fuel vehicles


20% fleet conversion to hybrids = $177,849


20% fleet conversion to electric vehicles = $261,882
Estimated annual greenhouse gas emissions (GHG) (CO2e) reduction from 20% alternative fuel vehicles conversion


20% hybrid conversion = 510 tons CO2e


20% electric vehicle conversion = 751 tons CO2e
Increase the percentage of employees who are regularly using sustainable commute options to 20 percent by 2025
County currently offers employees discounted monthly MARTA cards and shuttle service to parking lots. Utilizing partnerships with GA Commute Options and the Atlanta Regional Commission to provide additional commute incentives and programming. County participates in the Atlanta Biketober Challenge to encourage riding a bike to/from work and other destinations.
Divert surplus food and supplies from county events
A four-month composting pilot in the Department of Real Estate and Asset Management (DREAM) was completed in 2019, diverting 91 lbs. of food waste from the landfill and avoiding 9 lbs. of methane and 237 lbs. of CO2. We are looking into opportunities to expand the pilot at the Government Center and multipurpose senior centers.
Promote food self-sufficiency and food security for Fulton County residents through local partnerships and educational programs
The Fulton County Cooperative Extension and Fresh Fulton distribute fresh produce bags to residents in need through the Mobile Market and provides educational programming on healthy local food and nutrition.
In 2021, the Fulton County Citizens Commission on the Environment (FCCCE) drafted an urban agriculture resolution which was adopted by the Board of Commissioners on October 20, 2021. The resolution supports goals for small farms and urban agriculture in the county and requests that the 15 municipalities in the county support the development of small farms and urban agriculture in the region.
High-Performance County Infrastructure
Reduce or divert 20% of waste production in county facilities by 2025
Comparing recycling in 2019 to 2020, we saw a 34% decrease in materials being recycled and diverted from the landfill. This is largely due to limited facility operations as a result of COVID-19. Comparing 2020 to 2021, we are seeing a 13% increase in the amount of materials being recycled and diverted. In 2021, recycling service provided for libraries, government buildings, senior centers and parking lots, has a diversion rate of 64%.
Identify composting, natural cleaners, providing eco-friendly options, material reuse, etc.
In 2018, 16% of products, materials, equipment and vehicles purchased were eco-friendly and environmentally responsible.
Mitigate the use of polystyrene and plastic bag / plastic straws by vendors at county facilities, parks, and related events

In 2019, the Board of Commissioners passed a resolution to phase out the use of single use plastics at county facilities and departments by incrementally substituting such products with viable alternatives where possible. This resolution went into effect on January 1st, 2020. Though COVID-19 has delayed progress on this initiative, early 2020-2021 actions include: training and guidance on green purchasing, delivery of sustainable replacement cups, lids, utensils, etc., to Freshments Markets, continuous collaboration with suppliers to identify and deter common single-use plastic departmental purchases, and diverting over 248 tons of waste from landfills to recycling centers in 2020 and over 280 tons through third quarter of 2021.
Reduce overall potable water use and sewer needs by 20 percent by 2025 through water conservation, efficiency, and reuse at county facilities

Comparing our 2018 water use baseline of 211,317,000 gallons to 2020 water use of 280,392,000 gallons, we had a nearly 33% increase. This is likely due in large part to COVID-19 and consuming additional water for hygiene, health and safety. However, when we compare 2020 water use to 2021 water use to date, we have a 25% decrease. We'll continue to make progress towards achieving this goal by continuing LEED certifications for building projects over 10,000 sq. ft. and implementing water efficiency measures in renovation and new construction, enrolling in the city of Atlanta diverted water meter program, and implementing rainwater harvesting a facilities such as the Metropolitan Library Resilience Hub.
Education and Outreach and Green Jobs Training Placement
Foster partnerships between organizations within Fulton County Government promoting sustainable homes, workplaces and communities

Partnership established with 2M Design Consultants on Green Professional training (GPRO). 2M, a GPRO Delivery Partner, has trained more than 200 participants including building officials, library staff, construction professionals in the Greater Atlanta Area and students in the Atlanta Technical College Construction Program. This training is linked to LEED certification credits, in addition to teaching green building practices used within the library system.
Fostering Partnerships for Plan Implementation
The Fulton County Citizens Commission on the Environment (FCCCE) is a commission appointed body of county residents with experience and commitment to the environment and sustainability. The commission meets monthly in collaboration with the Energy & Sustainability Manager, and works on environmental sustainability initiatives related to policy, programs, partnerships, resources, outreach, etc. in alignment with the Sustainability and Resilience Plan and issues of importance to the Commission and county communities.
Southeast Sustainability Directors Network (SSDN) is a collaborative peer-exchange of local govt. sustainability and resiliency professionals from across the region. SSDN addresses problems associated with climate change such as extreme weather, sea level rise, flooding, drought, and crop loss through sustainability efforts. They connect local government sustainability professionals throughout the region to accelerate, scale, and implement sustainable and resilient best practices so that communities are equipped to adapt to and mitigate climate change. The county has been a member since 2019 and has served on various committees and working groups that support our ability to implement the Sustainability and Resilience Plan and make a broader impact.
Other partnerships: county municipalities, Southface Institute, Emory HERCULES Stakeholder Advisory Board, The Partnership for Southern Equity and Just Energy and Growth Circles, West Atlanta Watershed Alliance, 2M Design Consultants, Urban Sustainability Directors Network, American Microgrid Solutions, Clean Energy Group, Georgia Water Tanks, Rocky Mountain Institute, World Resources Institute, Cherry Street Energy, City of Atlanta Office of Resilience, City of Savannah Sustainability, Georgia Tech, Georgia State University, Atlanta University Center, U.S. Dept. of Energy, Georgia Environmental Finance Authority, Athens-Clarke County, DeKalb County, Honeywell, Automated Logic, Control Concepts, Solar Stewards, NEMAC / Fernleaf, Keep North Fulton Beautiful, Georgia Power, BEAM for All, Environmental Community Action, Nexamp, GA Solar Energy Association, Environment Georgia, Southern Alliance for Clean Energy, Southeast Energy Efficiency Alliance, Integral Group, PGAL, Heery/McAfee, Stonehill, CPACE Alliance, Urban Perform, Jones Sustainable Solutions Group, Gangstas to Growers and the Come Up Project, YMCA Atlanta, Purpose Built Schools.
In 2019, the county received a $50,000 matching grant from the Georgia Environmental Finance Authority for the Cleveland Ave. solar installation.
In 2019, the county was awarded a rebate of nearly $195,000 from the Georgia Power Commercial Energy Efficiency program for energy efficiency improvement projects at the Justice Center. The project realizes an energy savings of about 20% or 3.6 million kilowatt hours annually, which is equivalent to the power used by about 346 homes in a year.
In 2020, the county received a $300,000 grant award from the Southeast Sustainability Directors Network (SSDN) and the Southeast Sustainable Communities Fund for the Resilience Hubs project in partnership with Southface Institute.
sustainability & resilience
resources news and links
2019 Atlanta Better Building's Challenge
Top Performers
Justice Center: water savings of 51%
Government Center: water savings of 45%
Kirkwood Library: water savings of 52%
Washington Park Library
Fulton County Cooperative Extension
Fulton County Citizens Commission on the Environment FCCCE
Fulton County Libraries LEED Certifications
GA Water Coalition Clean 13 Award
Justice Center Georgia Power energy efficiency rebate
County has received National Association of Counties (NACo) Achievement Awards for Government Resiliency and working towards the creation of our first Resilience Hub, and LEED certifications of 32 libraries.
Single use plastics resolution
Urban agriculture resolution