Commissioner Natalie Hall's Conference for Graduating Young Men Ends with Air of Optimism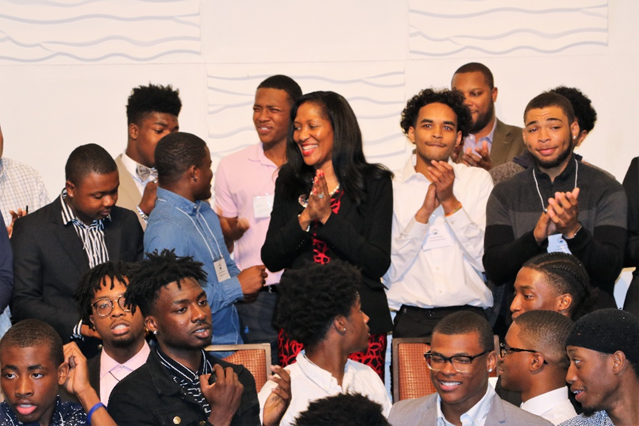 Commissioner Natalie Hall's Conference for Graduating Young Men Ends with Air of Optimism
The "Empowering Young Men to Excel" conference sponsored by Commissioner Natalie Hall, District 4, ended on a celebratory note as Commissioner Hall interacted with the young men who attended the conference, all of whom are graduating high school seniors.
The one-day conference encouraged the group of about 200 young men to excel academically and professionally. The featured opening speaker was Thomas W. Dortch, Jr., Chairman of the Board for 100 Black Men of America, while the lunch time panel discussion featured a candid discussion by successful professionals who turned wrong decisions around by creating roadmaps for success. The presenters included:
Terry LeCount, Chick-Fil-A College Football Hall of Fame
Calvin A Brock, Jr., Chief Administrative Officer, District 4
Rafielle (aka I.L the Artist)
James Williams, Talent Acquisition
Henry Mamulu, Entrepreneur
Darius Brown, Speaker and Author
The conference workshops included:
My Finances Are My Future - Rashedia Mayhane, Vice President, Operation Hope
Developing The Leader Within – Terry LeCount, Chick-Fil-A College Football Hall of Fame
How To Interact With The Law – Samuel Washington, Fulton County Juvenile Court
Respecting Women – Dekalb Commissioner Lorraine Cochran-Johnson, Retired Lieutenant Colonel William Johnson and Anita Hall, Director of Legislative and Community Affairs, District 4
Commissioner Hall organized the conference to encourage young men to consider strategies for ensuring successful futures through healthy lifestyles, marketable skills, well-balanced relationships and successful careers.