Progress-for-Central-Library-Well-Underway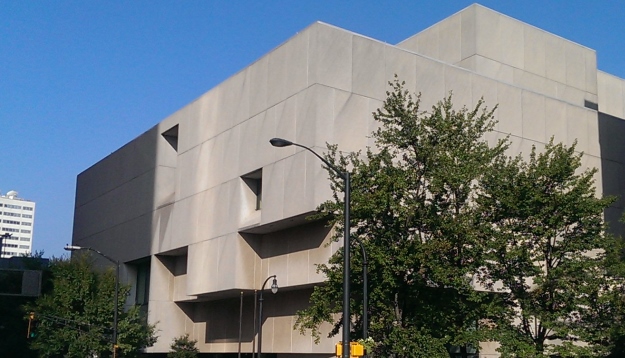 Progress for Central Library Well Underway
$50 Million Renovation will result in state-of-the-art facility
Updated facility will re-open in late 2020
Much of the highly-anticipated exterior work to the downtown Central Library is now underway. This is the next step in the ongoing $50 million renovation of the Fulton County Library System's Central Library and System Headquarters, which opened in 1980 and was designed by architect Marcel Breuer.

The first six floors of the library are being renovated to include all new mechanical equipment, flooring, restrooms and lighting. A new grand staircase will lead patrons from the lobby to the new technology center on the second floor. A new fifth-floor indoor/outdoor conference center and event space will be one of the highlights of the new library design.

A series of concrete panels will be replaced with new windows looking out over the city that will allow additional natural light to flood the interior of the renovated library.Workers with Winter Johnson Group are scheduled to have a crane maneuvering along Forsyth Avenue and Carnegie Way in upcoming days.

The crane will be used to remove the five-ton panels from the Carnegie Way side of the building. Workers removed several panels from the Williams Street side of the 40-year-old building in July with no problems. As part of the construction, four trees along Forsyth Avenue in front of the library and one tree in the plaza will be removed.

Once the panels are removed and construction completed, four Aeryn Trident Maple trees will be planted, as well as five Green Shadow Sweetbay magnolia trees in the renovated front plaza. The new plantings will replace the current invasive species with tree varieties that are native to Georgia. Work at Central Library is expected to continue through next summer, with a late fall 2020 re-opening date.