Fulton Seeks Nomination for Poet Laureate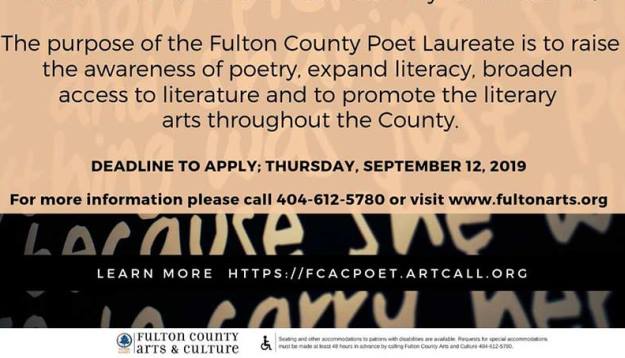 Fulton Seeks Nomination for Poet Laureate
Nomination period closes september 12
The Department of Arts & Culture is seeking nominations for Fulton County Poet Laureate.
The purpose of the Fulton County Poet Laureate is to broaden the awareness of poetry, expand and enhance literacy, broaden access to literature in its varying forms and to generally promote the literary arts throughout the County. The term of office is up to five years. The Poet Laureate will be expected to develop a proposal that reflects and achieves the goals of the program. Activities and special projects can include but are not limited to readings, workshops, composing original works, public art projects, and partnerships with the library, local schools and other innovative partnerships.
Eligible applicants must be a full-time resident three years prior to the application deadline date, maintain Fulton County residency during the term of the appointment and share a connection with Fulton County. Applicants must be a writer of any of the recognized poetic forms and have a substantial body of work published with active projects in the last five years.