Fulton County Commissioners Honor FCCCE WInners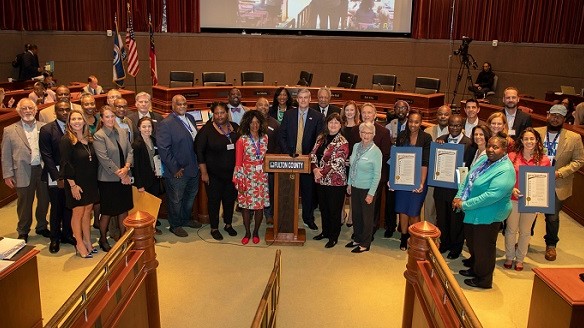 Fulton County Commissioners Honor FCCCE WInners
Community groups honored for efforts on behalf of environment
On behalf of the Fulton County Board of Commissioners, the Fulton County Citizens Commission on the Environment (FCCCE) presented honors to community organizations, schools, local governments, businesses, and individuals which advocate for and exemplify environmentally-sound practices improving the lives of citizens of Fulton County. This year's Environmental Awards Program was held prior to the Fulton County Board of Commissioners meeting on October 16, 2019.

This year's honorees include:

Kimberly-Clark Corporation, Roswell Campus (District 1 Winner)
• Kimberly-Clark, the maker of well-known brands including Kleenex, Scott and Cottonelle, has been a fixture of the Roswell community for decades. Since their first building was constructed in 1979, they have balanced responsible growth while maintaining a 96-acre natural campus that enhances the work environment of more than 950 employees. Kimberly-Clark makes positive environmental impacts in any number of ways for its North Fulton County community from composting cafeteria food waste to attaining LEED and Energy Star certifications for its buildings to recycling office paper. The firm also strongly encourages employees to donate time and resources to environmental organizations.

Roswell Riverwalk Boardwalk (District 2 Winner)
• Riverwalk is a multi-purpose greenway that parallels the Chattahoochee River that runs across Bull Sluice Lake from Azalea Drive and ends across from the Chattahoochee Nature Center. This new trail, which includes lots of boardwalk through wetlands or over water, takes hikers and bikers through a portion of the wetlands near Azalea Drive and Willeo Road. This 7 mile trail lends itself to a range of uses by residents of the nearby suburbs, from morning bike ride or evening jog or weekend walk with the family. It also connects users to the river, particularly at the parks along its length where they can pause and picnic.

Riverwood International Charter School Garden Project (District 3 Winner)
• Riverwood International Charter School added its garden project by taking a monoculture of Bermuda grass and turning it into a biodiversity wonderland. The pollinator garden, the addition of 14 fruit trees and bushes brought a diversity to the landscape on the school property. It also brought awareness of what can be grown to relieve the issue of food deserts in an urban area and instruction on how proper agriculture can reduce run-off and flooding. The garden serves as an outdoor learning environment which provides enrichment for a rigorous curriculum and takes a comprehensive approach to urban agriculture.

HABESHA (District 4 Winner)
• HABESHA Inc. was formed in 2002 under the leadership of Cashawn Myers who, as a Clark Atlanta University graduate student, was inspired by a professor's remarks concerning the lack of positive opportunities for youth living in public housing units neighboring the university campus. Myers started a summer cultural enrichment program which eventually expanded its activities to include education and awareness around sustainable agriculture, entrepreneurship, holistic health and technology. HABESHA's success has led to the establishment of an affiliate branch in Baltimore as well as the Atlanta-based HABESHA Gardens Complex. The work of the organization has also been featured on Georgia Public Broadcasting and CNN.

PlantLanta Fulton County Projects (District 5 Winner)
• Plantlanta is a group of people whose mission is to aid the City of Atlanta, Fulton County and surrounding areas to constantly develop and execute ideas that inspire, encourage, and motivate millennials to assist in the overall sustainability of those communities. Their mission is to create pathways to higher standards of sustainable living, environmental education, economic opportunity, and access to high quality food and shelter by combining pop culture and sustainability. Much of their work is focused on supporting Westside Atlanta neighborhoods and farms, including Metro Atlanta Urban Farm in College Park.

Atlanta Track Club and CHEP North America (Countywide Winners)
• Atlanta Track Club is a 34,000 member-based non-profit organization centered on running and walking that delivers events, training programs and community outreach. The Club puts on more than 40 events a year throughout the Atlanta area, including the AJC Peachtree Road Race, the world's largest 10 kilometer race. In 2019, the Club committed itself to implementing green initiatives that reduce, re-purpose and recycle their event materials, promote sustainable and responsible consumption, and support the local community of Atlanta. They formed their first ever Sustainability Committee, tasked with ensuring the Club develops and executes policies and procedures that reflect a commitment to environmental sustainability within their daily operations and across all of their events and programs. They set goals before race day on July 4 to divert at least 80 percent of plastic and aluminum waste from the landfill, collecting these plastic water bottles and then turned into benches, giving them and given back to public spaces in the community.
• CHEP North America is headquartered in Fulton County. CHEP sources 99.1% of all timber for its wooden pallets from sustainably managed forests of southern yellow pines, receiving certifications from the Forest Stewardship Council (FSC) or the Programme for the Endorsement of Forest Certification (PEFC). CHEP continues to manage and mitigate their use of timber by diverting a wood from landfills. The company is a global leader in managed, returnable and reusable packaging solutions, serving many of the world's largest companies in sectors such as consumer goods, fresh produce, beverage and automotive.

Dr. Yomi Noibi and Monica Robinson (Emma I. Darnell Environmental Justice Award Winners)
• Dr. Yomi Noibi collaborated to establish the Atlanta Watershed Learning Network and the Atlanta Water Equity Task Force, created by the City of Atlanta Department of Watershed Management to lead the U.S. Water Alliance. He has trained leadership in many other successful environmental justice organizations in Fulton County and has collaborated with many non-profit organizations to support environmental justice programming in Fulton County. Dr. Noibi worked with students, faculty and staff at Atlanta's 6 Historical Black Colleges and Universities to develop conceptual plans to take stormwater out of the area's combined sewer system to reduce flooding with its attendant public health risks, public and private property damage, and degradation of water quality in Proctor Creek.
• Monica Robinson was hired as the first Environmental Planner in the history of Fulton County for its environmental justice program. Ms. Robinson collaborated with citizens, communities, organizations, regulatory agencies, governmental officials and private industry focused on acknowledging environmental issues. She is responsible for forming the Environmental Justice Working Group and was a member of the Georgia Environmental Justice Alliance. Efforts she has led or contributed to within the last 10 years include the Airport Master and Regional Transportation Plans, planning the Scrap Tire Round Up Event as well as investigating and mediating a new wastewater treatment facility construction proposed for Atlanta's Westside. As a result of her work, Fulton County's Environmental Justice Initiative being selected and receiving national recognition as a Model Practice by the National Association of County and City Health Officials.

The FCCCE is a citizen environmental advisory group appointed by the Board of Commissioners. The purpose of the FCCCE is to investigate environmental concerns; to make recommendations to the Fulton County Board of Commissioners on environmental policies; and to increase public awareness, understanding and involvement concerning environmental issues. The groups and individuals honored represent those who are carrying out excellent environmental stewardship programs or developments in Fulton County.