Two Fulton County Arts Centers Transition to City of South Fulton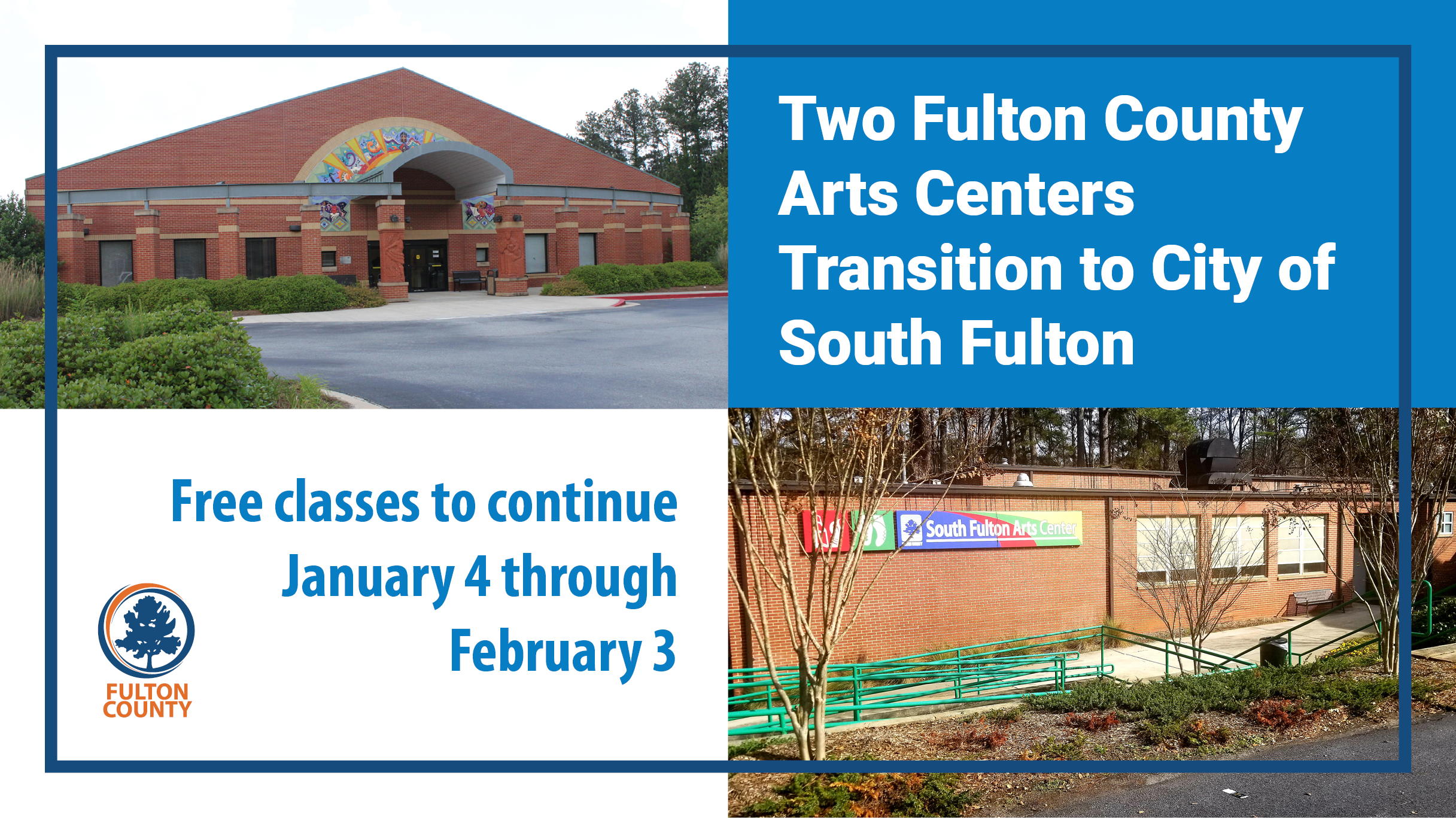 Two Fulton County Arts Centers Transition to City of South Fulton
Free classes to continue January 4 through February 3
Fulton County will transition two arts centers to the City of South Fulton starting in January 2020. The Southwest Arts Center and South Fulton Arts Center will be transferred to the City of South Fulton on January 8, 2020 as a part of the new city's incorporation and transfer of county assets. Both facilities currently operate under the Fulton County Department of Arts & Culture (FCAC). The Southwest Arts Center opened in 2001, and includes classroom space, visual art exhibition space, and a black box theater. The campus also includes a gallery and a 375-auditorium and theater, which opened in 2008.
The South Fulton Arts Center, located in the Cliftondale Multipurpose Facility, includes classroom spaces, a pottery studio, and a 200-seat theater. "Fulton County is pleased to have strong partnerships with our 15 cities, and we look forward to a smooth and successful transition for these facilities to the City of South Fulton," said Fulton County Chairman Robb Pitts.
"Our arts program will celebrate the many talents of the residents of South Fulton and these arts centers will be the stages where those talents can flourish and be shared," said Mayor William "Bill" Edwards. "At the same time, they will allow us to host some of the world's best performers and artists, including some who call our city and region home."
"FCAC is delighted to work with the City of South Fulton to ensure a smooth transition of the two centers, said Lionell Thomas, Director of Fulton County Arts and Culture. "We are pleased to provide quality cultural services to our residents in partnership with the City of South Fulton."
"The City of South Fulton has placed an emphasis and focus on continuity throughout this transition. We want to ensure our citizens continue to receive positive services and programming as we plan the future of the Southwest and South Fulton Arts Centers," said Tony Phillips, Director of the City of South Fulton Department of Parks, Recreation and Cultural Affairs.

Fulton County will continue to operate the facilities through December 2019. Although these facilities will be officially transferred to the City of South Fulton as of January 8, 2020, FCAC classes will continue from January 4, 2020 through February 3, 2020 in partnership with the city's Department of Recreation and Cultural Affairs to ensure both the continuity of operations and in response to overwhelming public support for the two facilities. Residents can learn more about future programming at the Fulton County website at https://www.fultonarts.org.