Volunteers Needed for Annual Homeless Count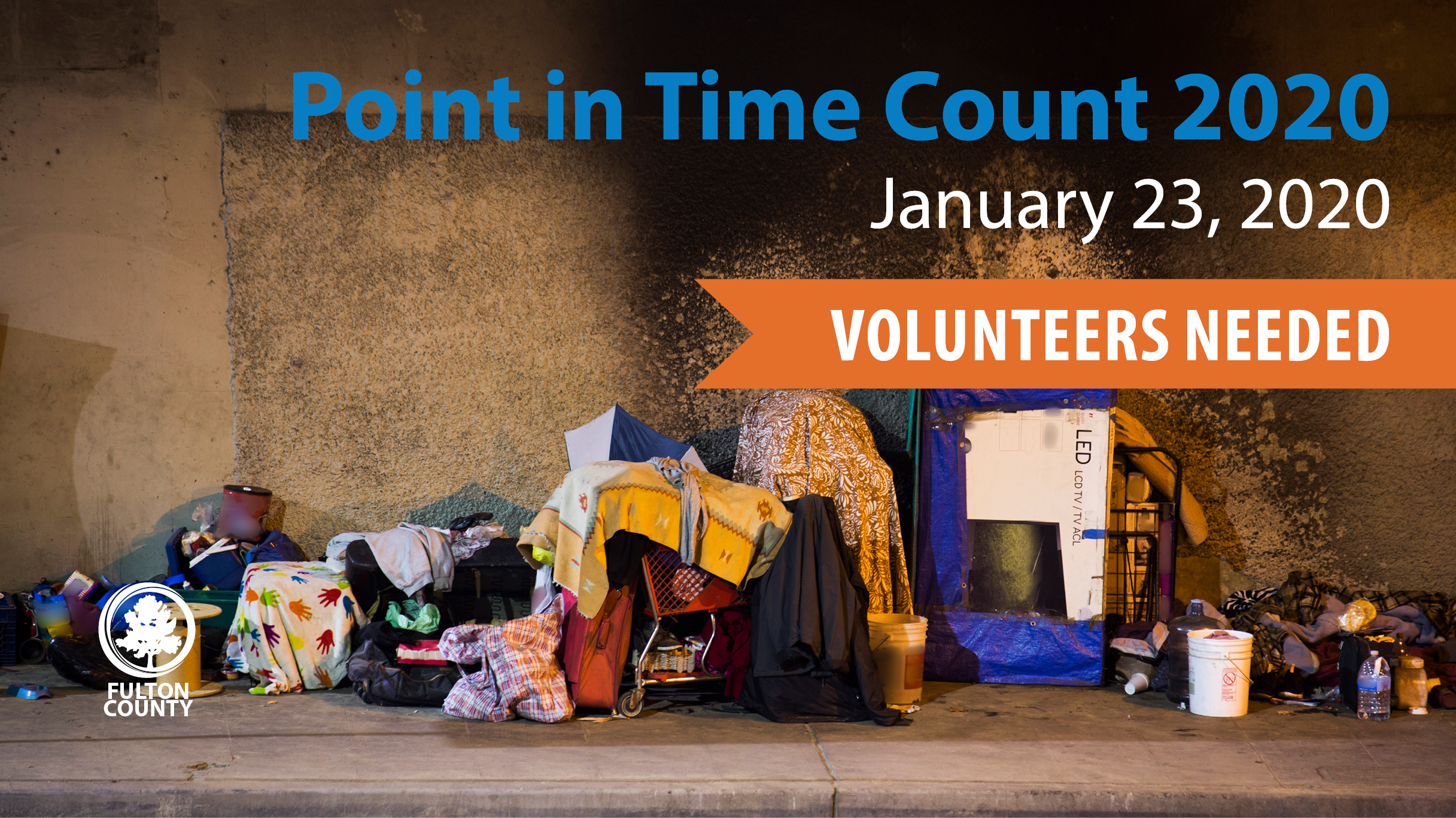 Volunteers Needed for Annual Homeless Count
Trained volunteers and experienced outreach professionals will come together on Thursday, January 23, 2020 to conduct a single-night homeless count and survey of people experiencing homelessness in Fulton County, Georgia excluding the City of Atlanta. The Point In Time (PIT) Count allows municipalities to seek appropriate funds to help those in need to obtain economic stability while also building strong communities with affordable housing.
Fulton County needs volunteers to assist in obtaining a comprehensive PIT Count. Volunteers are required to register and participate in mandatory training on January 16 or 17, 2020.
Training Locations
North Fulton Service Center: January 16, 2020, located at 7741 Roswell Road, Room 212, Atlanta, GA 30350
Training 1: Local governments only, 10 a.m. to 12 p.m.
Training 2: Nonprofits and volunteers, 1 p.m. to 3 p.m.
South Fulton – Metropolitan Library January 17, 2020, Room B located at 1332 Metropolitan Pkwy SW, Atlanta, GA 30310
Training 1: Local governments only, 10 a.m. to 12 p.m.
Training 2: Nonprofits and volunteers, 1 p.m. to 3 p.m.
Citizens who volunteer to assist can register team members when they are all confirmed and have provided their email addresses.
Fulton County is one of hundreds of communities across the country that conducts a PIT count, one night of the last ten days in January. Conducting an annual PIT count ensures Fulton County's ability to help municipalities to secure federal homeless assistance funding from the U.S. Dept. of Housing and Urban Development (HUD).
The PIT count creates a "snapshot" of the scope and scale of homelessness in the county, which provides policymakers and funders with critical information on the number and demographic characteristics of the families and individuals who are experiencing homelessness.
This year, Fulton County is coordinating the volunteer activities in partnership with municipalities and looks forward to partnering with all municipalities (with the exception of Atlanta) to identify homeless hotspots, nonprofit partners, and police and fire personnel who will be available to help on the night of the count.
Citizens who want to volunteer must fill out the form below, email Ann Isaac at
ann.isaac@fultoncountyga.gov
or call 404-613-0413 for more information.