Public Works Proclamation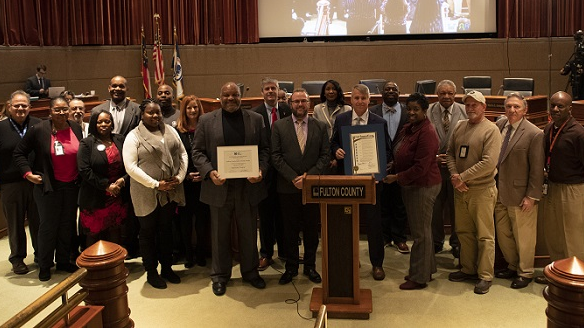 Fulton County Department of Public Works Recognized for Outstanding Service
Board of Commissioners recognizes Public Works
The Fulton County Department of Public Works (DPW) is being acknowledged for its continued efforts to provide the county with high quality services.
On Wednesday, January 22, the Fulton County Board of Commissioners (BOC) presented the DPW with a proclamation in recognition for its commitment to ensure that all water and wastewater facilities in the county are operated in a sustainable, efficient and environmentally sound way. As part of Fulton County's mission to protect the environment and to safeguard the health, safety, and welfare of residents, the DPW has implement a Capacity Management, Operation, and Maintenance Program. The program is designed to assist in the ongoing process to manage wastewater collection systems, reduce sanitary sewer overflows, and improve system reliability. The program's success is due to the hard work being done by the DPW's outstanding staff.
"We have a staff that is not only dedicated, but committed to providing the highest level of service to residents," said David Clark, Director of Public Works. "Our goal is to live our mission, which is to protect the health, safety, and welfare of residents in Fulton County daily."
This is the second major recognition for the Fulton County Department of Public Works. The group received the 2019 Georgia Association of Water Professionals (GAWP) Platinum Wastewater Collection System Excellence Award on November 19, 2019 in recognition of exceptional efforts in proper management, operation, and maintenance of our wastewater collection system. The nonprofit is an educational association for water professionals and serves as an authoritative resource for knowledge, information, and advocacy of sound public policy in water resources and related environmental fields in Georgia and surrounding areas.