FALCON Selected to Power Emergency Alerts for Fulton County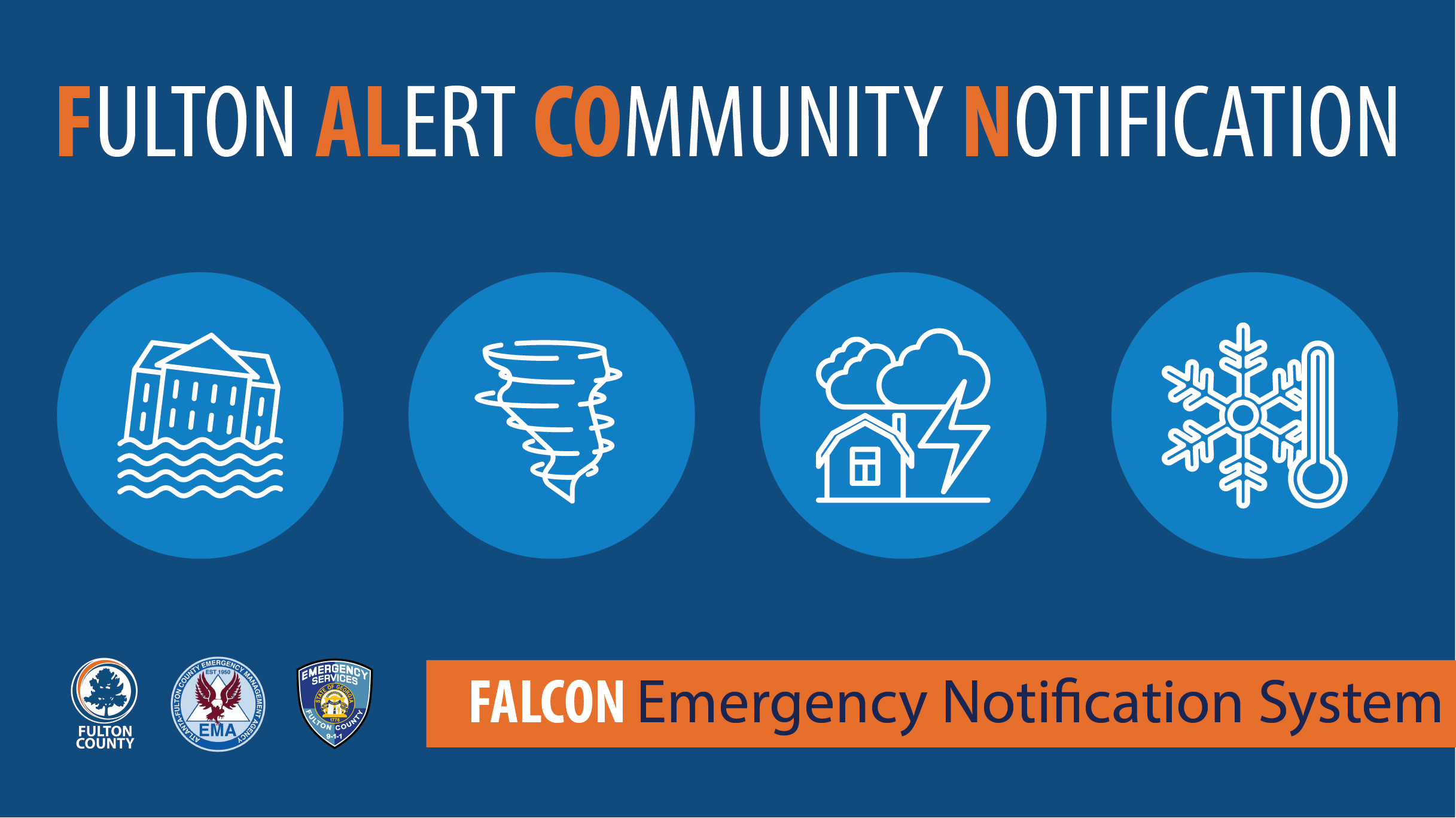 FALCON Selected to Power Emergency Alerts for Fulton County
Fulton County's Emergency Management Agency and Fulton County Emergency Services (911) announced that a new mass notification program will now be used to power alerts in times of emergency. Through the EverBridge Disaster Alert System, Emergency Management will implement the Fulton ALert COmmunity Notification System (FALCON). The program is designed to deliver safety instructions via cellphone, landline, email, and SMS for localized emergencies such as flooding, public health emergencies or active shooter situations.
"Ensuring the safety of all Fulton County residences is our top priority," said Alton Adams, Fulton County Deputy Chief Operating Officer. "The selection of the FALCON system will assist in making sure that not only residents, but businesses and Fulton County employees accurately and timely receive critical emergency information."
The new FALCON system is replacing the CodeRED Community Emergency Alert system formerly used within Fulton County. While both systems notify businesses and residents of critical situations, the FALCON system will allow users to customize what information they actually receive.
"Everyone enrolled in the FALCON system will automatically receive notifications regarding severe weather warnings such as severe thunderstorm warnings, tornado warnings and flash flood warnings." said Matthew Kallmyer, Director, Atlanta-Fulton County Emergency Management Agency. "However, users will be able to customize their profiles to select what other types of notifications they want to receive. This includes being notified about events such as high wind or winter weather advisories."
Through the FALCON system, Fulton County employees, businesses, and residents will receive accurate and timely information about road closures and traffic disruptions as well as:
Weather Warnings
• Severe thunderstorms
• Tornado
• Flash Floods
• Winter Weather
Emergency Events
• Evacuation Orders
• Gas Leaks
• Missing/Endangered Persons
Users can enroll into the Fulton ALert COmmunity Notification System (FALCON) via the Fulton County Government website.
EverBridge was founded in 2002 in the aftermath of the tragic events of 9/11 with the mission of helping to keep people safe amid critical situations. Used by more than 4,500 organizations worldwide, the goal of EverBridge is to provide continuous protection and avoid and/or lessen disruption to operations during emergency events.
Fulton County employees will receive a link via email, with instructions on how to review and sign up for the system.