District Dialogues March 2020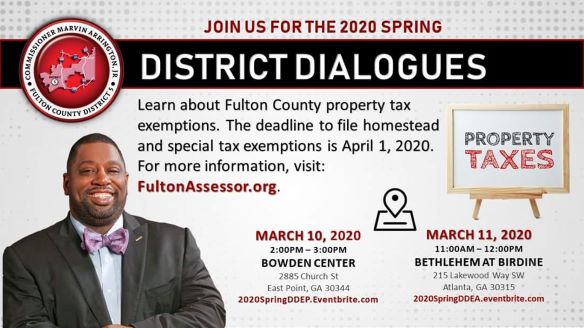 District Dialogues March 2020
In March 2020, residents of Fulton County District 5 will have the opportunity to talk to Fulton County leadership directly during the latest series of District Dialogues hosted by Fulton County Vice Chairman Marvin S. Arrington, Jr. Constituents will receive important information about initiatives and county services from Commissioner Arrington and Fulton County department heads. With tax assessment notices going out in June, the main focus of the discussion will be property tax exemptions. Representatives from the Tax Assessors' office will be on hand to answer taxpayer questions and share information with constituents.
"Each year, residents express concern about their tax bills and their assessments," says District 5 Commissioner Marvin S. Arrington, Jr. "This is a chance for them to talk to people in leadership about those concerns and learn what exemptions are available."
There are two District Dialogues scheduled for the month of March. The dates and locations for these events are as follows:
Tuesday, March 10, 2020
Bowden Senior Center
2885 Church St
East Point, GA 30344
2 p.m. to 3 p.m.

Wednesday, March 11, 2020
Bethlehem Senior Center at Birdine
215 Lakewood Way SW
Atlanta, GA 30315
11 a.m. to 12 p.m.