Hope Week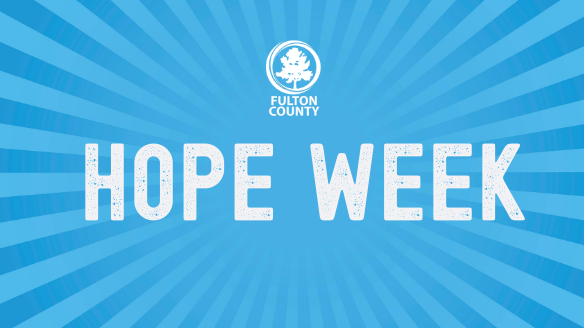 In the last month, our lives have changed dramatically.

But in the face of challenges, #TeamFulton is hard at work, bringing help and hope to more than 1 million residents.

This week we are celebrating "Hope Week" to show our citizens how you are helping, and to share your messages of hope for the community.
Write a Thank You Note. - Help encourage others with a sign or a note thanking someone who is going above and beyond. Maybe it's your own team, a teacher, a healthcare worker, or someone else in Fulton County who is in the trenches responding to COVID-19. Feel free to involve your kids or family members...make it creative and colorful!

Send us an "Action Shot." Show us your team in action...whether you're serving meals to seniors, holding virtual court hearings, keeping employees and vendors paid, patrolling communities, or whatever your role may be. TIP: Make sure you continue to practice social distancing... take your photos from at least 6 feet away!

Show Us How You are Helping Others. Are you sewing face masks? Calling to check on seniors? Making someone smile? Show us how you are giving back in this crisis.

Give 'Em A Hand! We're making a "virtual applause" video. Send us a 15 - 30 second video of your applause for public servants who are responding to COVID-19!

Sharing is Caring. We'll be sharing your messages of hope all week on our social media platforms. In addition to reading FulcoNews, please follow @FultonInfo on Twitter, Instagram and Facebook. Make sure you join the Fulton County Employee Facebook Group. Photos will also be showcased on the Hope Week webpage