Fulton County Residents Can Now Renew Tags at Kiosks and Online Without Credit Card Fees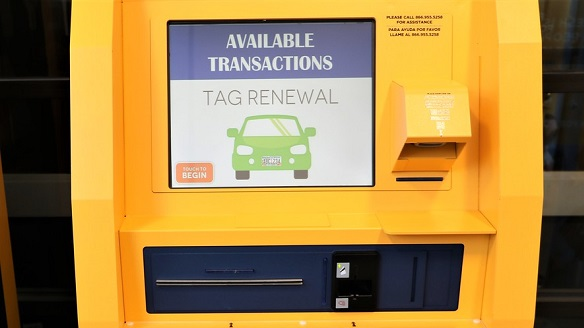 Fulton County Residents Can Now Renew Tags at Kiosks and Online Without Credit Card Fees
Fulton County residents can now renew their vehicle registration online and at kiosks without credit card or other processing fees.
Fulton County Tax Commissioner Arthur E. Ferdinand noted, "With this change, there is no financial advantage for customers to come to our offices for simple vehicle registration renewal. They can handle the entire transaction online at their convenience."
"With the current state of affairs, technology-enabled solutions have become a necessity for our customers. It only makes sense to waive these fees," said Commissioner Bob Ellis, who sponsored legislation at the May 6 meeting of the Board of Commissioners to waive the fees sooner than previously scheduled.
The Tax Commissioner's office has implemented the change for all motor vehicle registration renewal kiosks effective May 14.
Motor Vehicle Registration Renewal kiosks are located in select Kroger stores and allow taxpayers from Fulton County and other participating counties to renew their motor vehicle registrations and receive renewal decals upon the completion of their transaction. Kiosks are accessible to customers during store business hours. Taxpayers using the kiosks can scan their driver's license and vehicle registration renewal notice, or enter their tag number at the kiosks.
Kiosks are also being installed in all offices of the Tax Commissioner, and will provide a convenient option to customers, especially at peak times. While most locations are still closed to the public, the kiosk at the Fulton County Customer Service Center at Maxwell Road is currently accessible during the business hours of the Department of Drivers Services. That facility is located at 11575 Maxwell Road, Alpharetta, GA 30009
Kiosks are located in prominent locations within the following Kroger stores:
• Kroger, 2685 Metropolitan Parkway SW, Atlanta, GA 30315
• Kroger, 227 Sandy Springs Place, Sandy Springs, GA 30328
• Kroger, 3330 Piedmont Road NE, Atlanta, GA 30305
• Kroger, 800 Glenwood Avenue SE, Atlanta, GA 30316
• Kroger, 725 Ponce De Leon Ave NE, Atlanta, GA 30306
• Kroger, 10945 State Bridge Road, Alpharetta, GA 30022
For more information about vehicle registration, log on to
www.fultoncountytaxes.org
.