Fulton County Expands COVID-19 Testing through "Test & Vote" at Three Early Voting Sites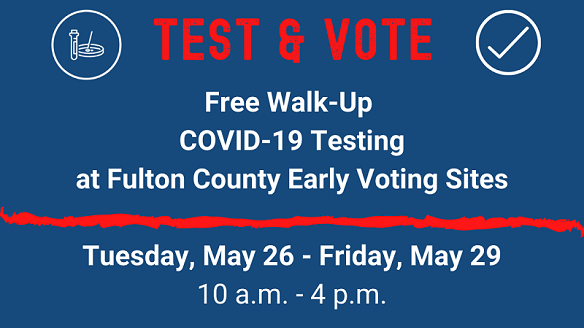 Fulton County Expands COVID-19 Testing through "Test & Vote" at Three Early Voting Sites
As part of ongoing efforts to make COVID-19 testing more convenient for residents, Fulton County is launching "Test & Vote" with FREE walk-up COVID-19 testing available at three early voting sites starting today at 10 a.m.
The sites are:
South Fulton Service Center, 5600 Stonewall Tell Road
Garden Hills Elementary, 285 Sheridan Dr NE, Atlanta, GA 30305
Sandy Springs Library, 395 Mount Vernon Hwy NE, Sandy Springs, GA 30328
The "Test & Vote" sites will be open daily through Friday, May 29, from 10 a.m. to 4 p.m. No appointment is needed. COVID-19 testing is now available to any resident, regardless of symptoms or risk factors.
Testing services are provided by the Fulton County Board of Health and CORE (Community Organized Relief Effort).
Testing will be offered in facility parking lots and will not affect early voting operations. Residents do not have to vote to receive testing, or vice versa.
Free COVID-19 testing is still available at three other Fulton County testing sites:
Center for Health & Rehabilitation, 265 Boulevard NE, Atlanta, GA 30312
Wolf Creek Amphitheater, 3025 Merk Road, SW, College Park, GA 30349
4700 North Point Parkway, Alpharetta.
Fulton County continues to work with partners to maximize testing opportunities. Analysis that more than one-third of the COVID-19 testing in Georgia has been conducted in Fulton County.
Other COVID-19 testing partners in Fulton County include hospitals, the Georgia National Guard, CVS-Health, Walgreen's, and the City of Atlanta.
All free testing sites within Fulton County can be found at www.fultoncountyga.gov/covid19testing.