Partnership to Enrich Customers with Intellectual and Developmental Disabilities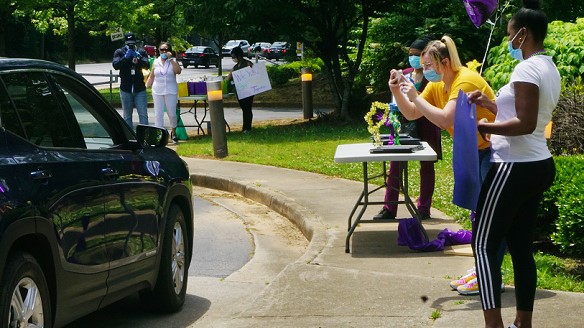 Fulton County Departments Continue Partnership to Enrich Customers with Intellectual & Developmental Disabilities
The Fulton County Department of Behavioral Health & Developmental Disabilities (BHDD) and the Department of Arts & Culture are pleased to announce the continuation of the initiative entitled Creative Like Me under this year's theme "The New Normal" that began in 2018 to serve residents with intellectual and developmental disabilities.

Aligning with COVID-19 requirements for social distancing, "Creative Like Me-Our New Normal" incorporates facilitated distance learning that focuses on photography and the perceptions of the pandemic by Developmental Disabilities participants.

BHDD Director LaTrina Foster expressed her appreciation of the continuing partnership with Arts & Culture, "With the current temporary closings of the training centers operated by Developmental Disabilities, the newest version of "Creative Like Me" seeks to keep our participants engaged and served through meaningful artistic projects."

Arts and Culture Director Lionell Thomas adds, ""We all have capabilities for creative expression through the arts in its various forms, whether it is through painting, music, arts and crafts, photography, theatre or creative movement. Creative Like Me-Our New Normal," the virtual version is in line with our mission to ensure that all people have accessibility to the arts experiences, especially those traditionally underserved by our programs and activities "

The current eight-week version of "Creative Like Me" uses written instructions, pre-recorded videos, and external links to training guides related to photography. The curriculum guides caregivers with tools to help participants create photographs that communicate their perceptions of their environments while the Country practices social distancing and other strategies to stop the spread of COVID-19.

Participants will document their experiences and observations of life during the COVID-19 pandemic through the lens of their cameras. Each week, participants will be provided with a brief that helps them to explore the theme in various ways. To encourage creative thinking, they will also be provided with mini-art activities ('Artsicles') that require either found materials or limited art supplies.

The final phase of the project will highlight a virtual photography exhibit with the work of those training center participants who agreed to take part along with their parents/caregivers.