FULTON COUNTY ARTS & CULTURE PRESENTS FALL VIRTUAL ARTS CLASSES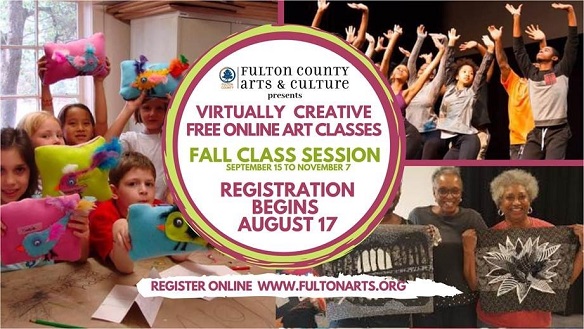 FULTON COUNTY ARTS & CULTURE PRESENTS FALL VIRTUAL ARTS CLASSES
FREE VIRTUAL ARTS CLASSES & CAMP
Fulton County Arts & Culture will be offering digital arts classes in the fall. These classes will be held from September 17 - November 7, 2020. Registration begins August 17, 2020.
All classes are free, but class size is limited. Pre-registration and approval is required to participate. Please visit www.fultonarts.org or @fultoncountyarts for more information on how to register.
View class information and links
*Class schedule, offering, dates, & times subject to change. Refer to online schedule for up-to-date
FREE ARTIST SURVIVAL KITS
All students registered for one of the fall virtual classes are eligible to receive free art supplies. All registrants must have proof of fall session virtual class registration. The artist survival kits are first come first served with a limited supply. All artists must be a Fulton County resident. Each survival kit is limited to one person per household. Artist Survival Kits must be picked up between September 17 through November 7, 2020.