FULTON COUNTY DEPARTMENT OF ARTS & CULTURE ANNOUNCES 2021 FUNDING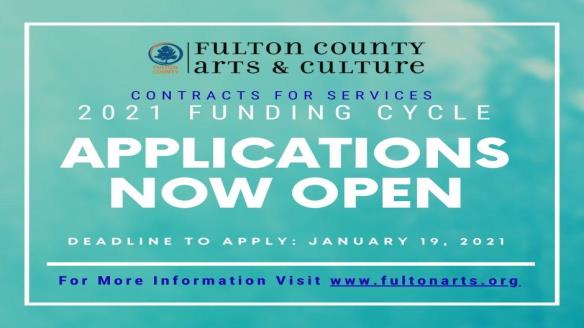 FULTON COUNTY DEPARTMENT OF ARTS & CULTURE ANNOUNCES 2021 FUNDING
Deadline to submit applications, Tuesday, January 19, 2021
Fulton County invests in non-profit organizations to ensure Fulton County citizens enjoy a wide array of rich arts experiences. The Fulton County Department of Arts & Culture (FCAC) announces funding ranging from $1,000 to $50,000 for Fulton County based arts, cultural and community based non-profit organizations and artist collectives for the 2021 funding cycle.

Eligible applicants are encouraged to apply for service contracts which are designed to support arts programing taking place between January 1 through December 31, 2021 that addresses the FCAC program mission to provide access, participation and appreciation of the arts for all Fulton County residents.

The FCAC Contracts for Services (CFS) Program provides unrestricted general operating and project support to nonprofit and tax-exempt organizations, arts & culture organizations, cultural institutions, colleges and universities, as well as units of government that produce or present ongoing arts programming open to the public. Contractors present programs that reflect the cultural diversity of Fulton County and captures the imagination of all citizens, invigorates neighborhood growth, supports economic development and provides jobs.

CFS PROGRAM CHANGES & UPDATES FOR 2021
• While Fulton County encourages the delivery of the projects proposed for 2021 to be delivered using a virtual format it expects those individuals and institutions choosing to deliver in-person programs to follow the CDC Guidelines for safe practices against the spread and transfer of COVID-19 in group settings. See the full guide at: https://tinyurl.com/ycwn2p7j
• First-time applicants in the Emerging Arts category can request a maximum of $5,000.
• Funding support for private schools is restricted to activities presented to the broader community.
• Artist seeking funding support for can apply for funding in the Individual Artists category which is separate from the Small Arts Project category.
• Cultural organizations are only eligible to apply for project support. Cultural institutions can apply in the Small Arts Project category or the Project Support Category. Cultural institutions can request funding for arts-based projects.


The 2021 applications will open December 16, 2020, and close January 19, 2021. The Small Arts Project Support Funds category may have additional deadlines which are subject to the availability of funds. Applications must be completed and submitted through the WebGrants system: http://fulton.dullestech.net.

The FCAC Contracts for Services (CFS) team will conduct application process workshops which are free and open to the public. Advanced registration is required. First time applicants are required to attend one workshop or consult with the FCAC staff prior to submitting an application.

WEBINAR
Date: December 18, 2020
Time: 3:00 - 4:00 PM
Registration: https://www.eventbrite.com/e/2021-cfs-application-webinar-1-tickets-133018222083

WEBINAR
Date: January 11, 2021
Time: 10:00 -11:00 A.M
Registration: https://www.eventbrite.com/e/2021-cfs-application-webinar-2-tickets-133019782751


Things to Remember:
Deadlines for submission of accurate and complete applications and final reports will be strictly enforced. Applicants interested in applying should review the guidelines available at www.fultonarts.org and contact CFS staff early in the planning process to verify eligibility. Staff members are available to assist organizations throughout the application process.

Applications must be submitted in WebGrants by 11:59 p.m. on the published deadline date. Applications submitted after the deadline are not eligible to move forward to panel and will not be accepted.
For more information, including workshop details and registration, please visit www.fultonarts.org or call 404-612-5780.
View Arts and Culture Newsletter