Fulton County Welcomes Major Investment from Microsoft Corporation Development of East US 3 Data Center in South Fulton Region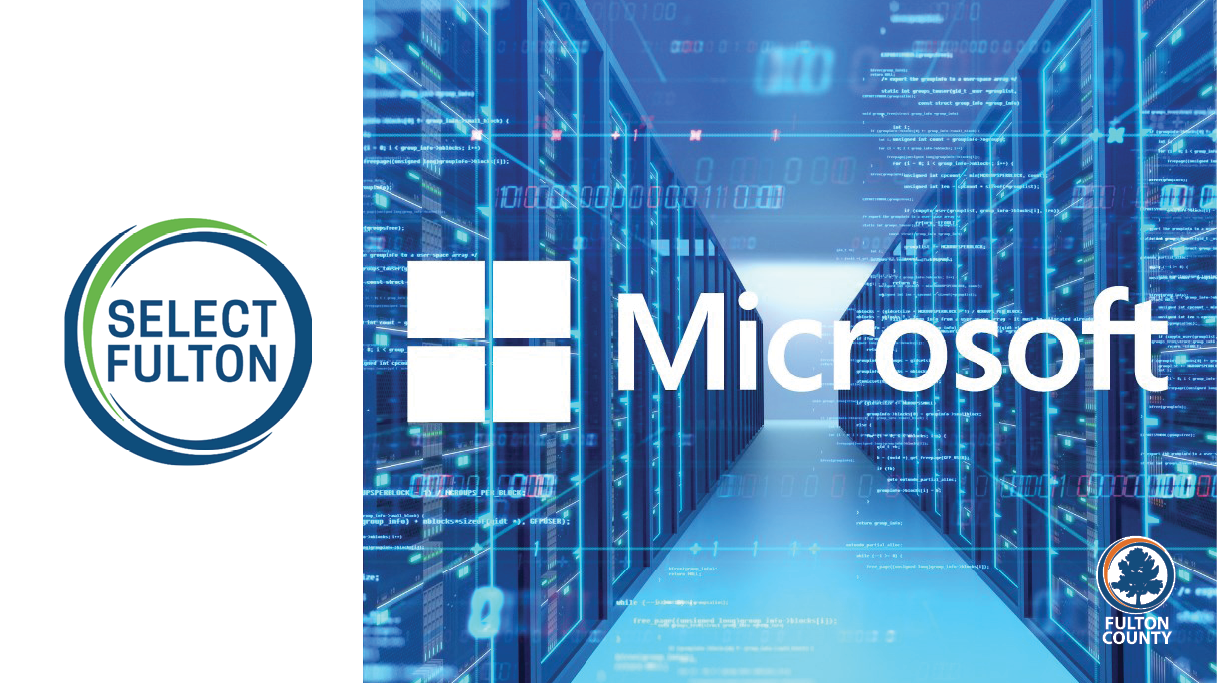 Fulton County Welcomes Major Investment from Microsoft 
Microsoft Corporation, a Fortune 50 company, today announced that they will establish their next U.S. datacenter region – "East US 3" – in Fulton County. Located in both the City of East Point and the City of Palmetto, this is a significant commitment to invest in the county – and part of Microsoft's commitment to support the creation of new jobs and local business growth.

"This announcement is another testament to the economic vitality of Fulton County and our strength to grow even during a pandemic," said Robb Pitts, Chairman of the Fulton County Board of Commissioners. "It also reflects Fulton County's leadership in Georgia by embracing companies that are bringing much needed permanent and temporary jobs to our county."
When choosing datacenter sites, Microsoft considers a range of criteria, including proximity to population centers, a broad, reliable and stable power source, multiple high-capacity network connections, a large pool of qualified labor, and affordable and clean energy.
"We couldn't be happier to support and welcome an established company like Microsoft to Fulton County," said Michel Turpeau, Chairman of the Development Authority of Fulton County. "Their long-term investment is evidence of our skilled workforce and attractive existing infrastructure, both of which will continue to prove critical in the coming months and years."

The new datacenter region will deliver world-class data security and privacy as well as faster access and the broadest range of Microsoft Azure cloud services to customers in the immediate region and will be available to customers across the U.S. and around the world.
"We have worked hard to build a vibrant community to attract investment and growth. Having a brand name like Microsoft locate in our city speaks to the quality of our community," said Mayor Deana Holiday Ingraham. "The City of East Point is beyond excited to announce this new data center which will add to the diversity of industry, services and workers found in our community. I always say there's no point like East Point and this is a testament to that."
Datacenters also support the creation of local jobs – directly through construction and operations of the site – and indirectly through business transformation that increases competitiveness and growth.

"We couldn't be happier to welcome a globally recognized company like Microsoft to Fulton County," said Liz Hausmann, sponsor of Economic Development on behalf of the Board of Commissioners. "When a high-profile company like this invests so heavily in our community, it reflects our business friendly climate and adds to the many industries that call Fulton County home."

This follows Microsoft's earlier announcement in May 2020 to bring a cloud computing and artificial intelligence business to Fulton and fully occupy the new Atlantic Yards development in Atlantic Station. An investment of $75M, creating 1,500 new jobs and lease of 523,000 square feet, this recruitment was the largest new office lease in Metro Atlanta and one of the largest in the United States since the COVID-19 pandemic.
"We extend a warm welcome to Microsoft and are excited that they selected the City of Palmetto as a location for their data center. This development will generate more jobs and enhance our community. We look forward to all the transformational impacts this development will have on the City Palmetto," said Mayor J. Clark Boddie.

According to CBRE, a global real estate firm, Fulton County and the Atlanta region ranked 5th nationally for data construction in 2020. Already the region ranks 2nd for new data center construction in 2021.