Fulton County Announces Vax Up Music Fest, August 28 - 29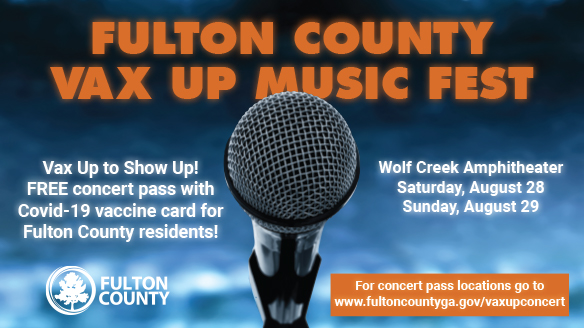 Fulton County Announces Vax Up Music Fest, August 28 - 29
As part of its ongoing efforts to increase the rate of COVID-19 vaccinations, Fulton County will host the Vax Up Music Fest on Saturday, August 28 and Sunday, August 29 at Wolf Creek Amphitheater.

Fulton County and A-Town Music Fest will present a two-day lineup.
Saturday's Vax Up Hip Hop Concert will feature Pastor Troy, Fabo, Young Dro, D.S.G.B., Crime Mob, Kadalack Boyz, Trillville, Ghetto Maffia, Kilo Ali, Backbone, Youngbloodz, Raheem, D4L, Franchize Boys, KP & Envy, Cool Breeze, Lil Will, and Shop Boyz.
Sunday's Vax Up Gospel Concert will feature Marvin Sapp, Jekalyn Carr, James Fortune, Willie Moore, Jr., Bri Babineaux, and Jor'Dan Armstrong.

"The health of Fulton County citizens is our highest priority," said Fulton County Chairman Robb Pitts. "We have administered more vaccines than any other county, but there is still much work to be done. We must continue to find creative solutions to close the vaccination gaps within Fulton County, and to address health disparities affecting Black and Brown communities. "

"Fulton County is using every possible resource to encourage our residents to get vaccinated," said Fulton County District 5 Commissioner Marvin Arrington, Jr. "The Vax Up Music Fest encourages people to get vaccinated so they can come out and enjoy the show, and celebrates those residents who already got their vaccines. We look forward to bringing back concerts and music festivals in full force once everyone in Fulton County is vaccinated."

Only people who have received at least one dose of COVID-19 vaccine and show their vaccination card at the gate will be admitted to the Vax Up Music Fest. Gates will open at 5 p.m. each day, with shows starting at 6 p.m. Parking will be FREE onsite at the amphitheater.

For concert passes, Fulton County residents can visit any of the following vaccination sites:
5710 Stonewall Tell Road, College Park, GA 30349 (Tuesday – Saturday, 10 a.m. – 8 p.m.)
141 Pryor Street, SW, Atlanta, GA 30303 (Monday - Friday, 10 a.m. – 3 p.m.)
4700 North Point Parkway, Alpharetta GA 30305 (Tuesday - Saturday, 10 a.m. – 3 p.m.)

People who are already vaccinated can pick up concert passes at the Wolf Creek Box Office by showing their vaccination cards the day of the concert, starting at 3 p.m. A limited number of vaccines will be provided onsite at each concert, from 3 p.m.to 7 p.m.

In addition to COVID-19 vaccine requirements, other safety protocol measures will be in place at the Vax Up Music Fest including:
Reduced venue capacity, from 5,500 to 3,000
Social distancing enforced with blocked lawn seating and reduced capacity in fixed seating area
Mask requirements in place when attendees are away from their seats

For more information go to www.fultoncountyga.gov/vaxupconcert