Anna Roach Named Executive Director of the Atlanta Regional Commission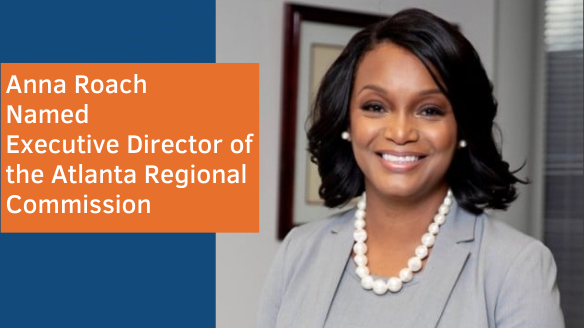 Fulton County Congratulates Anna Roach on being Named Executive Director of the Atlanta Regional Commission
Fulton County Executives have offered their congratulations to Chief Operating Officer Anna Roach after her selection as Executive Director of the Atlanta Regional Commission.

The ARC Board voted to approve Ms. Roach's appointment Wednesday afternoon.

Ms. Roach has served with Fulton County's leadership team since 2013, in roles including Assistant County Manager, Chief Strategy Officer, and Chief Operating Officer.

"The transition to the Atlanta Regional Commission is a natural progression for Anna," said County Manager Dick Anderson. "I am certain she will bring both her leadership skills and her understanding of key issues for the benefit of all metro local governments."

In preparation for Ms. Roach's departure, Anderson has announced that Deputy Chief Operating Officers Dr. Pamela Roshell and Alton Adams will report to him directly.

"Fulton County has the best senior management team of any local government," said Chairman Robb Pitts, who serves on the Atlanta Regional Commission board. "The fact that Anna was selected for this important regional leadership position is a testament to the caliber of talent within Fulton County Government. Our loss will be the region's gain."

Ms. Roach's last day with Fulton County will be December 31, 2021.