Fulton County Receives Waiver from the Department of Housing and Urban Development to Extend Point In Time Count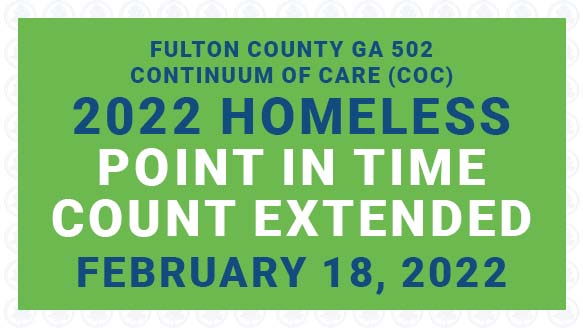 Fulton County Receives Waiver from the Department of Housing and Urban Development to Extend Point In Time Count
Due to the increased infectiousness of the Omicron COVID-19 variant and the recent surge in COVID-19 cases, the Fulton County GA 502 Continuum of Care (CoC) has received a waiver from the Department of Housing and Urban Development (HUD) to move the Point In Time Count (PIT) from January 27, 2022 to February 18, 2022.
Minimizing the need for a physical exchange is particularly important this year given the safety concerns regarding central staging sites and carpooling. In addition, the County will not use public volunteers.
Recognizing that participants may have ongoing concerns regarding COVID-19, Fulton County will continue to work within the existing guidelines and will conduct the count over multiple days, which is scheduled to run from February 18, 2022 through February 25, 2022.
To ascertain the unsheltered PIT count, the County will use a service provider methodology and work with homeless service providers and local municipalities to identify hotspots and gather data. February virtual training dates will be reserved for homeless service providers and municipalities only.
Fulton County is required by the U.S. Department of Housing and Urban Development (HUD) to perform an annual count of individuals who are living unsheltered. HUD uses the data to allocate federal funding. The data creates a "snapshot" of the scope and scale of homelessness in the county, which provides policymakers and funders with critical information on the number and demographic characteristics of the families and individuals who are experiencing homelessness.
Fulton County was granted a waiver in 2021 and did not conduct an unsheltered PIT count due to the COVID-19 pandemic.
For more information, please contact us via email at
HomelessInfo@fultoncountyga.gov
.