Vaccines Are Back at Mercedes Benz Stadium in Time For the Big Game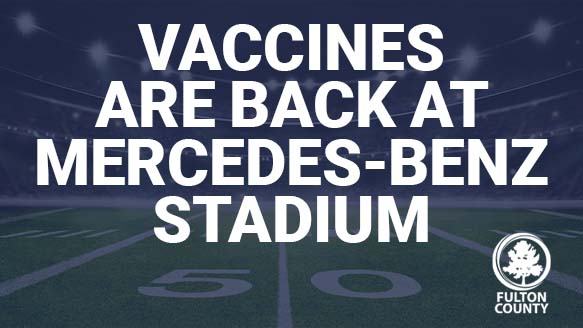 Vaccines Are Back at Mercedes Benz Stadium in Time For the Big Game
Mercedes-Benz Stadium has been added to the list of locations currently providing vaccinations against COVID-19. The expansion of vaccinations to include Mercedes-Benz Stadium comes after requests from visitors to the COVID testing site at that location who were also seeking first doses, second doses, and booster shots of existing vaccines. The home of the Atlanta Falcons and Atlanta United had previously served as the state's largest mass vaccination site for several months in 2021.
With people all over the region, gathering to enjoy the big game on February 12, 2022, this would provide residents with an opportunity to ensure their safety prior to group gatherings for the game.
The Georgia Department of Public Health in partnership with Mercedes-Benz Stadium, Fulton County Government, the Fulton County Board of Health, the Atlanta-Fulton County Emergency-Management Agency and Viral Solutions previously announced the opening of a new testing mega-site at The Home Depot Backyard at 1 Backyard Way beginning Friday, January 14.
The hours of operation will be the same as those previously established for the COVID-19 testing site at the stadium's Home Depot Backyard. Those hours are Wednesday – Monday, 9 a.m. to 6 p.m. daily. The site will be closed on Tuesdays.
Appointments for vaccinations are recommended and can be made by calling 404-613-8150 or by following this link:
https://gta-vras.powerappsportals.us/en-US/
. To register online and to make an appointment for testing, please log on to
https://viralsolutionsga.com/register.
Vaccination and boosters are the best protection against COVID-19. To find a vaccination location visit
https://dph.georgia.gov/covid-vaccine
.