FULTON COUNTY ARTS & CULTURE ANNOUNCES CFS 2022 SECOND ROUND FUNDING CYCLE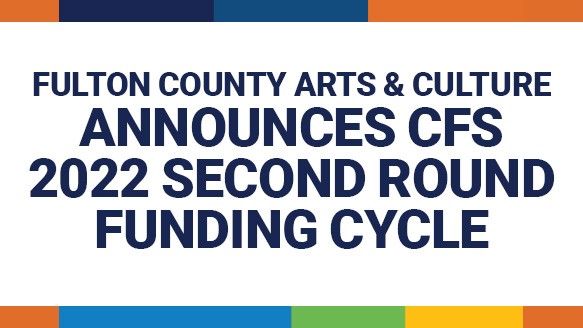 FULTON COUNTY ARTS & CULTURE ANNOUNCES CFS 2022 SECOND ROUND FUNDING CYCLE
The Fulton County Department of Arts & Culture is pleased to announce application deadlines for the 2022 Contracts for Services second round funding cycle.

Funding will range from $1,000 to $50,000 for Fulton County based artists, arts, cultural and community based non-profit organizations and artist collectives & $10,000 TO 75,000 for Fulton County Vibrant Communities recipients.

Applicants currently in consideration for funding in the first-round funding opportunity are not eligible to apply.
DEADLINE
May 24, 2022/ 11:59 PM
Click HERE to Access the Application
APPLICATION WEBINARS
The Fulton County Department of Arts & Culture offers technical assistance webinars for the 2022 arts funding cycle. Sessions will include an overview of the guidelines which includes; a review of applicant eligibility, funding categories, and application submission.

All workshops are free to Fulton County-based applicants. All artists and organizations that have not applied for funding from Fulton County Arts and Culture are encouraged to attend one of the webinars or click below for the On-Demand Webinar.
APRIL 28, 2022 2:00 PM
Click HERE to Register for 4/28/22 Webinar

MAY 5, 2022 11:00 AM
Click HERE to Register for 4/28/22 Webinar

MAY 10, 2022 3:00 PM
Click HERE to Register for 4/28/22 Webinar