Fulton County to Hold Ribbon Cutting Ceremony for Newly Renovated Big Creek Dewatering Building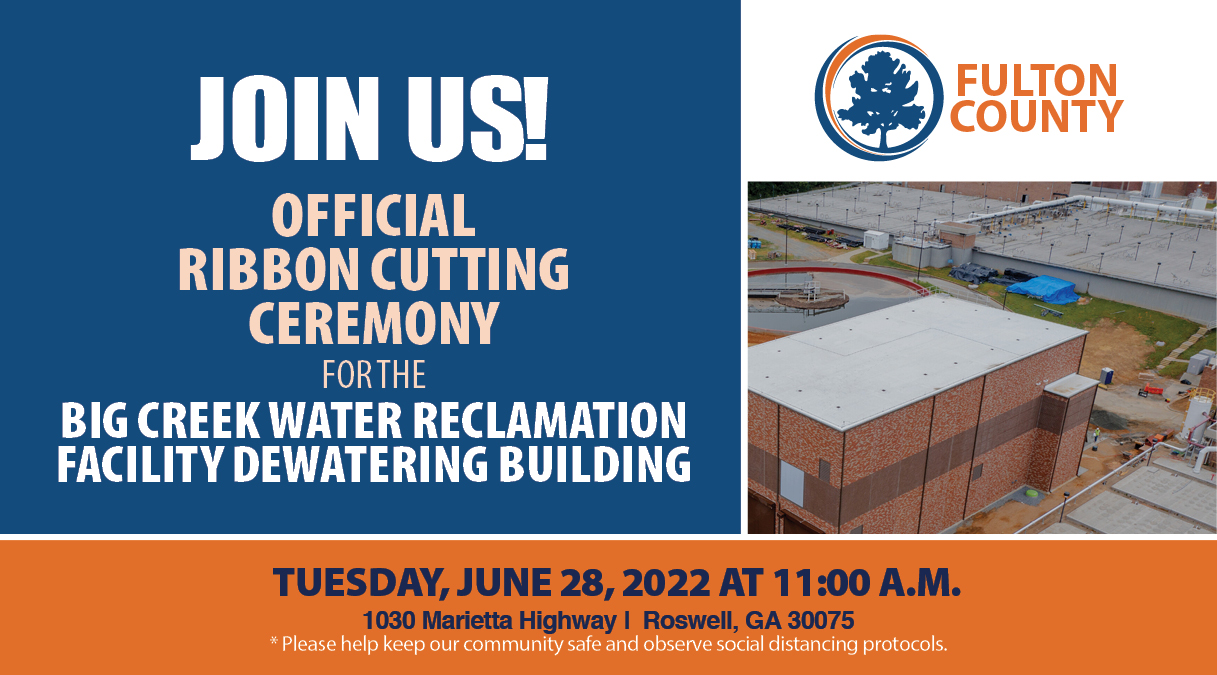 Fulton County to Hold Ribbon Cutting Ceremony for Newly Renovated Big Creek Dewatering Building
Fulton County will honor the completion of the newly renovated Big Creek Water Reclamation Facility Dewatering Building (WRF) with a Ribbon Cutting Ceremony on Thursday, June 28, 2022. Celebration of the project will kick-off at 11 a.m. at 1030 Marietta Highway, Roswell, GA 30075.
The Big Creek Water Reclamation Facility, which sits west of the Chattahoochee River in the Big Creek Basin serves the largest service area and largest total flow of wastewater treatment facilities in North Fulton County. The completion of the new Dewatering Building is the first key milestone to be reached in the Big Creek Water Reclamation Facility Expansion project.
"The work that is being done at Big Creek is a testament to the commitment and dedication of the Fulton County Public Works Department," said, Fulton County District 2 Commissioner Bob Ellis. "This facility serves approximately 70 square miles and includes Roswell, Alpharetta, portions of Milton, and two other counties. Big Creek needs the additional capacity to meet the growing wastewater treatment demands of the service area."
"North Fulton is an area that continues to see growth in its population, along with ongoing economic development," said Fulton County Vice Chair Liz Hausmann. "To meet the wastewater capacity demands those increases produce, the Fulton County Board of Commissioners recognizes the expansion of the Big Creek Water Reclamation Facility is critical in providing this vital resource to support both current and future growth."
The Dewatering Building serves a critical role in the overall function of the Big Creek Plant. The dewatering process removes water from the solids, so that the solids are compact and easier to store and dispose of safely. Through the implementation of state-of-the-art technology, the new Dewatering Building will be cost efficient, provide enhanced odor control, and assist in easing daily operations.
"The new Dewatering Facility will provide comfort and assurance in operations, maintenance, and performance," said Fulton County Public Works Director David E. Clark. "The completion of this facility is a milestone we have been looking forward to, because it is an ongoing demonstration of the promise made by those working on the Big Creek project to continue pressing forward to complete each expansion on time."
Upgrades to the Big Creek Water Reclamation Facility (WRF) will modernize the existing wastewater treatment processes and increase plant capacity from 24 million gallons per day (MGD) to 32 MGD with easy expandability to 38 MGD. The Big Creek Reclamation Facility was originally built in 1969 with a capacity to treat 750,000 gallons per day. The current expansion project with a total cost of $300 million is expected to be complete in 2024.