Fulton County Announces Household Hazardous Waste Collection Day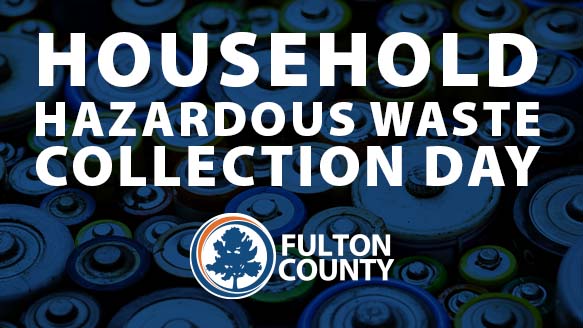 Fulton County Announces Household Hazardous Waste Collection Day
Fulton County Department of Public Works
Join Fulton County and the Department of Public Works for a Household Hazardous Waste Collection Day event. In celebration of American Recycles Day, this environmental stewardship event is free, open to all Fulton County residents, and promotes the protection of our water resources.

Acceptable collectable items include aerosols, antifreeze, batteries, paint, motor oil, and other household items.
WHEN: Saturday, November 19, 2022 from 10 a.m. to 1 p.m.
WHERE: Wolf Creek Amphitheater,3025 Merk Rd SW, Atlanta, GA 30349

For more information, please contact Kelli Edwards at Kelli.Edwards@fultoncountyga.gov

For more Fulton County news, sign up for the weekly e-newsletter #OneFulton at https://goo.gl/Nb1L84. You can also visit Fulton County's website at www.fultoncountyga.gov or connect with Fulton County government on Twitter at @FultonInfo or Facebook at @fultoninfo.