Fulton County Youth Commission 2022-2023 Term Induction Ceremony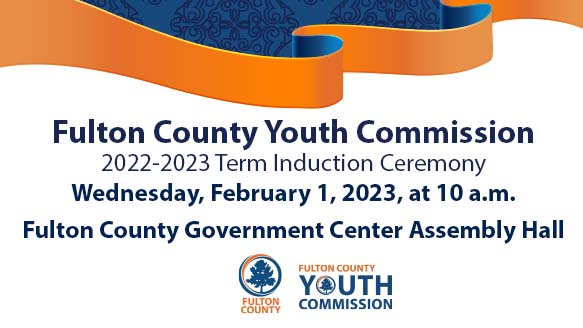 Fulton County Youth Commission 2022-2023 Term Induction Ceremony
The Fulton County Department of Community Development, Youth and Community Services Division continues to make investments in the lives of its youth through the Fulton County Youth Commission with its Annual Youth Commissioner Induction Ceremony on Wednesday, February 1, 2023, at 10:00 a.m. during the Fulton County Board of Commissioners Meeting at the Fulton County Government Center Assembly Hall located at 141 Pryor Street SW, Atlanta, Georgia 30303. Fulton County Youth Commissioners from every district in the county will recite the Oath of Office for the 2022-2023 term.
The Fulton County Youth Commission (FCYC) is a leadership program for outstanding high school students in Fulton County, Georgia, whose primary purpose is to advocate for children and youth issues. Youth Commissioners volunteer as many as 20 hours per month for planning meetings and community projects and over 120 hours annually. The FCYC explores various problems of today's youth and voices their opinions to the Fulton County Board of Commissioners on the best possible solutions. In addition, the program strengthens the participant's leadership skills, increases their interest in human services, and creates a means for communication between community leaders and Fulton County youth.
"The goal of the Youth Commission is to empower young people to be leaders and become involved in the local government process," said Reginald Crossley, Fulton County Youth Commission. "We must give our young men and women the skills to encourage leadership and self-empowerment."
Each year, approximately 30 Fulton County students in grades 8th-11th join the Fulton County Youth Commission after a rigorous selection process. Upon official induction into the Commission, these students become youth representatives and informants to their peers, community leaders, and Fulton County departments, providing a voice and the space to explore and address the most dynamic concerns they face today.
For more information, please contact with Reginald Crossley, Fulton County Youth Commission, via e-mail at
Reginald.Crossley@fultoncountyga.gov
.