Atlanta-Fulton County Emergency Management Agency Participates in Severe Weather Preparedness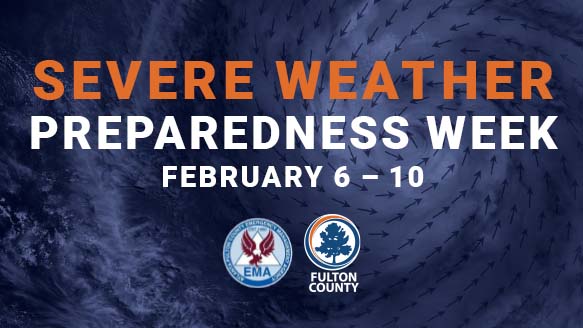 Atlanta-Fulton County Emergency Management Agency Participates in Severe Weather Preparedness
The week serves as a reminder for Fulton County residents to review emergency procedures and prepare for weather-related hazards.
Fulton County residents understand that severe weather can strike anytime. However, being prepared is necessary when faced with hail-producing thunderstorms, gusty winds, and even tornadoes.

Governor Brian Kemp, in coordination with National Weather Service (NWS) and Georgia Emergency Management and Homeland Security Agency (GEMA/HS), issued a proclamation calling on Georgians to educate themselves and understand the threats of severe weather during Severe Weather Preparedness Week, which will take place February 6 - 10.

As we approach one of the most active parts of the year for weather, Severe Weather Preparedness Week provides Fulton County Residents an excellent opportunity to learn more about the dangers of extreme weather and how and when to take proper actions when severe weather is predicted

Each day is dedicated to a different topic that addresses severe weather preparedness. Throughout the week, the weather-related issues to be covered include:

Monday, February 6 – Family Preparedness (including NOAA Weather Radio and Wireless Emergency Alerts).
Tuesday, February 7 – Thunderstorm Safety (including NOAA Weather Radio and Wireless Emergency Alerts): Learn the difference between a thunderstorm watch and a thunderstorm warning.
Wednesday, February 8 – Tornado Safety * WEATHER PERMITTING, we will conduct a NWR Test Warning Message at 9 AM ** // NOTE: the message will go out as a Routine Weekly Test (RWT) product via NOAA Weather Radio (NWR) and is designed to help trigger statewide schools, businesses, and other groups to practice their severe weather/tornado safety actions and procedures. If the "test" message is postponed, the backup day will be Friday (2/10).
Thursday, February 9 – Lightning Safety: Learn the 30/30 rule. If after seeing lightning, you cannot count to 30 before hearing thunder, go indoors. Stay indoors for 30 minutes after hearing the last clap of thunder.
Friday, February 10 – Flash Flooding & Flood Safety: Copy essential documents, seal them in a watertight container, and add them to your Ready kit.

Please take the time now to review your home, school, or business preparedness plans.