'The Walking Dead' actress meets dog rescued from Fulton County animal abuse case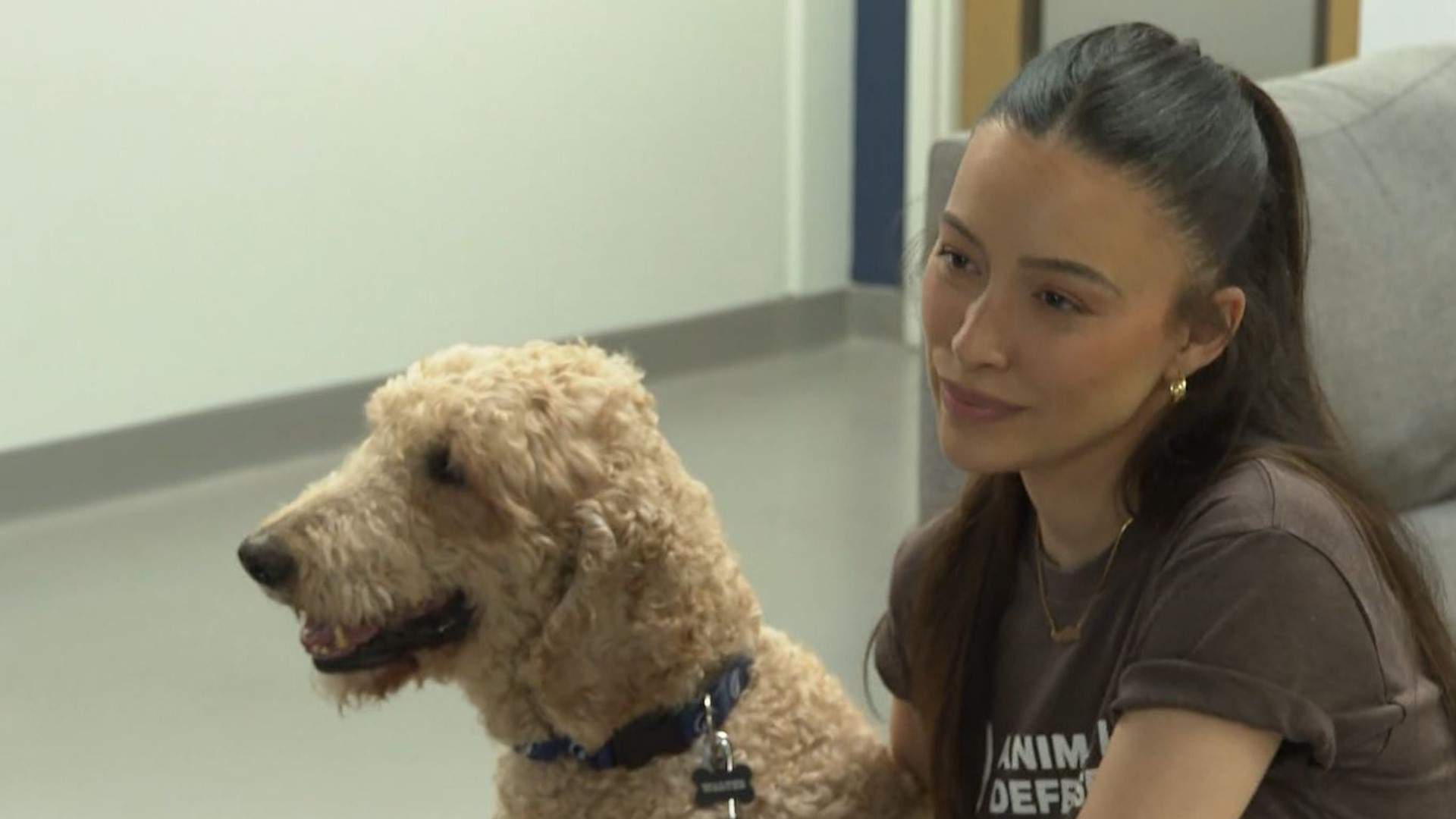 'The Walking Dead' actress meets dog rescued from Fulton County animal abuse case
By Gabriella Nunez | Local News | April 6, 2023
ATLANTA — Fulton County Animal Services had a star-studded visit at its shelter Thursday -- but it wasn't "The Walking Dead" actress that was getting all of the attention.
Christian Serratos, representing the Animal Legal Defense Fund was in Atlanta to meet Walter the rescued poodle lab. The organization offers grants to cover some expenses in animal cruelty cases, which otherwise can present hurdles in pursuing charges and holding people accountable.
A visible animal lover, Serratos is more famously known for her role as Rosita Espinosa in the zombie apocalypse TV series "The Walking Dead" and her portrayal as the Queen of Tejano music in Netflix's "Selena" The Series."
She affectionately stroked Walter's head at the LifeLine shelter after hearing his story.
Shelter leaders said Walter was seized in an animal cruelty case in Fulton County. The senior dog was rescued along with more than 50 dogs, at least two cats, several chickens and horses, officials explained to Serratos.
Veterinarians predict Walter is around 10 years old and likely partially blind and hard of hearing. Rescuers said that he weighed around 15 to 20 pounds -- severely underweight for a dog of his size. He's since about doubled his weight, his new owners said.
Michael and Cassie Rowicki, of Alpharetta, adopted Walter after he spent some time with a foster family.
"He was very, very skinny -- he's probably gained 15 pounds," Michael said.
The Rowickis explained that they weren't expecting to adopt a poodle. They were originally looking for a small dog but after hearing about Walter's case they knew they wanted to at least meet him.
"Special needs, older dogs don't scare us," Michael said.
It was an easy, "yes."
Already dog parents of two rescues, they felt Walter would make a perfect third.
"He's just easy-going, 'just pet me, love me,'" Cassie said, describing Walter's nature.
After learning he was one of some 50 poodles rescued in a disturbing case, they wanted to make sure he lived the rest of his life with love.
"He's been a great dog," Michael said.
Serratos saw this firsthand as the actress sat for a photo op with the dog.
Snuggling close to Walter, they posed for photos, and the pup accepted her hugs and loving looks. In meeting Walter, she said his story is why she works to raise awareness about animals that face abuse -- and have the potential to live a fulfilling life with owners who will be tender in their care.
"I want to thank Fulton County for taking animal cruelty cases seriously," she said.
The Rowickis now want other people to take Serratos' words to heart and consider opening their homes to loving dogs like Walter. They say he's a couch potato, a food lover and a playful pet that manages to keep up with their two other dogs -- a piece of their family they didn't know they needed.
"There are cruelty cases out there where dogs need some help -- so we ask that people consider going to their local shelters," Michael said. "Take a chance."