Fulton County Receives Federal Funding for County wide Improvements and Non profit Agencies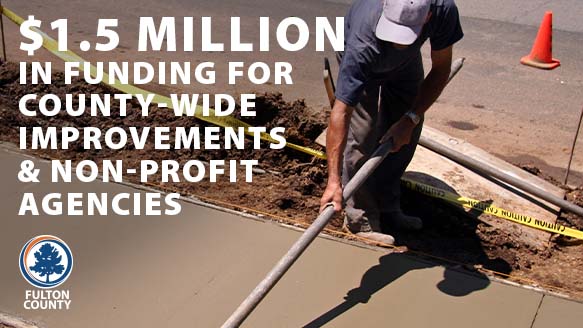 Fulton County Receives Federal Funding for County wide Improvements and Non profit Agencies
Over $1.5 million will help deliver vital assistance to constituents
The U.S. Department of Housing and Urban Development (HUD) has awarded Fulton County with over $1.5 million in federal funding to assist the county in providing vital community development projects to include capital park improvements, emergency financial assistance, and homeless prevention services.

"We're proud to help the cities here in Fulton County as they work to improve lives," said Fulton County Commissioner Dana Barrett. "From refurbished parks to new medical equipment, we'll be feeling the effects of these grants for years to come."

The Community Development Block Grants will deliver about $950,000 in needed capital improvements for park projects in College Park, East Point, Fairburn, Hapeville, and Union City. In Palmetto, about $240,000 has been set aside to repair the pump stations at Green Springs and Palmetto Springs. The City of Fairburn was awarded about $215,000 for capital improvements to the Fairburn Annex and the acquisition of a vacant lot for drive-up COVID testing and overflow parking for the Annex. Also, Covid-19 federal funds totaling about $173,000 will allow the City of Palmetto to purchase a Lucas Mechanical Chest Compression Device which is a highly regarded lifesaving device that can provide a consistent quality of chest compressions during resuscitation attempts and support ongoing initiatives in East Point and College Park to provide emergency mortgage, rental and utility assistance to constituents affected by the COVID-19 pandemic.

Several non-profit partners including: The Drake House, 24/7 Gateway LLC, Youth Empowerment Success Services, Community Assistance Center, HOSEA Feed the Hungry & Homeless, Society of Saint Vincent DePaul, and Poverty 2 Prosperity will all receive additional ESG and ESG COVID funding to further work in the areas of homeless prevention, rapid rehousing, and emergency shelter.

Through our partners, Fulton County continues to make an impact in the community by helping to provide decent housing, suitable living environments, and expanding economic opportunities.