District 4 Commissioner Natalie Hall Hosts 6th Annual Joan P. Garner Walk and Health Fair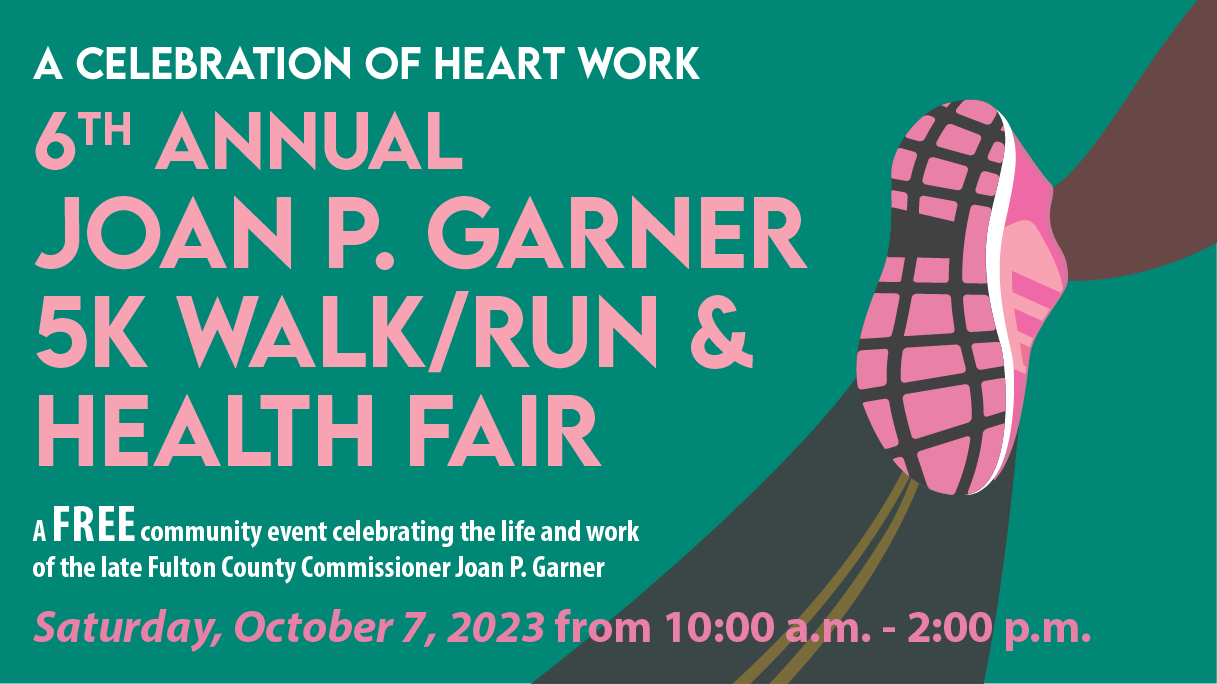 District 4 Commissioner Natalie Hall Hosts 6th Annual Joan P. Garner Walk and Health Fair
Fulton County residents are invited to come out and enjoy a fun-filled day of health and wellness activities.
Fulton County District 4 Commissioner Natalie Hall and the Fulton County Commission will present the 6th Annual Joan P. Garner Walk and Health Fair on Saturday, October 7, 2023. The event, which honors the legacy of the late Fulton County Commissioner Joan P. Garner will kick-off at Grant Park located at 625 Park Ave SE, Atlanta, GA 30312.
To register for the Joan P. Garner Walk and Health Fair and 5K visit, https://runsignup.com/Race/GA/Atlanta/JoanPGarnerWalkHealthFair

The walk and health fair, which takes place from 10 a.m. to 2 p.m. with a wide range of health screenings, interactive dance and exercise activities, food, and entertainment. Everything is FREE to the public. Prior to the start of the health fair, runners of all ages are invited to participate in a 5K Walk/Run along a designated route within Grant Park, which will kick off at 8:30 a.m.

"The goal is to continue building resources that ensure health equity not only for the residents of District 4, but for all of Fulton County," said Commissioner Hall. "Residents must receive the vital resources needed to be able to successfully take care of their health. This is the 6th year for the Joan P. Garner Walk and Health Fair, and each year, we have watched this event grow into a day of family fun filled with a wealth of health and wellness information."

The annual community event features a concert, performers, food vendors, games for children, prizes and giveaways, community-based resources, dance and fitness interactive activities, vaccinations, health screenings, and other activities.

The Walk and Health Fair pays homage to the late Fulton County Commissioner of District 4 Joan P. Garner, who spent decades advocating for civil and human rights and health issues. She served as the Executive Director of the Historic District Development Corporation, a nonprofit founded by Coretta Scott King to revitalize the Old 4th Ward and Martin Luther King Historic District. During her tenure as commissioner, Joan P. Garner worked tirelessly to fight against health inequity, fought for assistance with the HIV crisis in the region, and became the Executive Sponsor of Fulton County Government's "All People Are Healthy".