CAREER RESOURCE FAIR FEATURING ADVANCED MANUFACTURING AND CONSTRUCTION JOB OPPORTUNITIES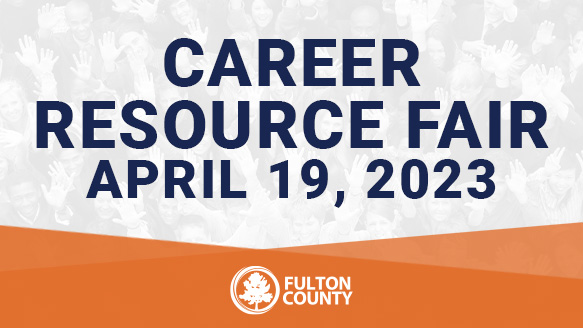 CAREER RESOURCE FAIR FEATURING ADVANCED MANUFACTURING AND CONSTRUCTION JOB OPPORTUNITIES
Fulton County is actively engaged with regional workforce systems. The County understands and is responding to the changing characteristics of a modern workforce. In response to the growing need for a highly skilled workforce in Advanced Manufacturing and Construction in Fulton County, WorkSource Fulton is hosting a career resource fair that will highlight job openings and training opportunities in manufacturing and construction.
The WorkSource Fulton Career Resource Fair will take place from 9 a.m.-3 p.m. Wednesday, April 19, at Atlanta Technical College, at 1560 Metropolitan Parkway, Southwest, Atlanta, Georgia, 30310.
"Fulton County is focused on our residents' needs," says Robb Pitts, Chairman, Fulton County Board of Commissioners. "The WorkSource Fulton Career Resource Fair is a critical way that the County is providing resources to help residents jump start their careers."
The WorkSource Fulton Career Resource Fair will feature local employers currently seeking candidates for job vacancies in construction and advanced manufacturing. Job seekers who attend the fair will get an opportunity to speak with prospective employers and apply for available positions directly from employers. Representatives from more than 15 area businesses will be onsite, including the following companies: McKenney's Mechanical, Duracell, Kroger, Heads Plumbing, Caterpillar, Mechanical Trades Institute, and Georgia Power. Attendees should bring resumes as on-site interviews will be conducted for some positions.
Also taking place at the WorkSource Fulton Career Resource Fair will be vendor exhibitions and employer presentations. The career resource fair will provide a platform for job seekers and employers to connect and interact, directly. Participants will be able to network with multiple employers and learn more about access to education, training, and support services. The career resource fair provides a great opportunity for job seekers to showcase their apprentice skills and get more information about job and career opportunities with premier companies in the Advanced Manufacturing and Construction industries.
For registration information and additional details, contact Shed Jackson at (404) 884-4384.
About WorkSource Fulton
WorkSource Fulton is a free, federally funded program that helps put people to work. Our program is designed to help find the right job or career training at no cost to individuals. WorkSource Fulton is designed to provide funding and support to guide program participants through the professional and career development processes.
WorkSource Fulton offers the following training and services: personal career counselors; job readiness workshops; access to career service centers; assistance with the job application process; in-demand occupation exploration; training options; and employment support services.
For more information, click here.