Public Works
Fulton County
Public works
Public Works
The mission of the Public Works Department is to protect the health, safety and welfare of Fulton County's citizens through systematic planning, construction, maintenance and operation of our water and wastewater infrastructure in a sustainable, efficient and environmentally sound manner, as well as contributing to the economies of Fulton County and the region through efficient administration of the Fulton County Executive Airport at Brown Field.

The Fulton County Public Works Department provides drinking water and wastewater services in the North Fulton cities, as well as wastewater services in many of the South Fulton cities. Use the water and sewer maps below to see if your property is located in Fulton County's service area.
For information on Public Works Capital Improvement Projects, visit the Infrastructure page.
For information on Open Records Requests or to submit or manage a request, click here.
2023 Summer Internship Program
The Department of Public Works is accepting applications for the Public Works Summer Internship Program through Friday, April 28th. This is a 10-week paid internship with positions available in various areas of the Department. Interested candidates can apply online at governmentjobs.com/careers/fulton/jobs/4002049/public-works-internship.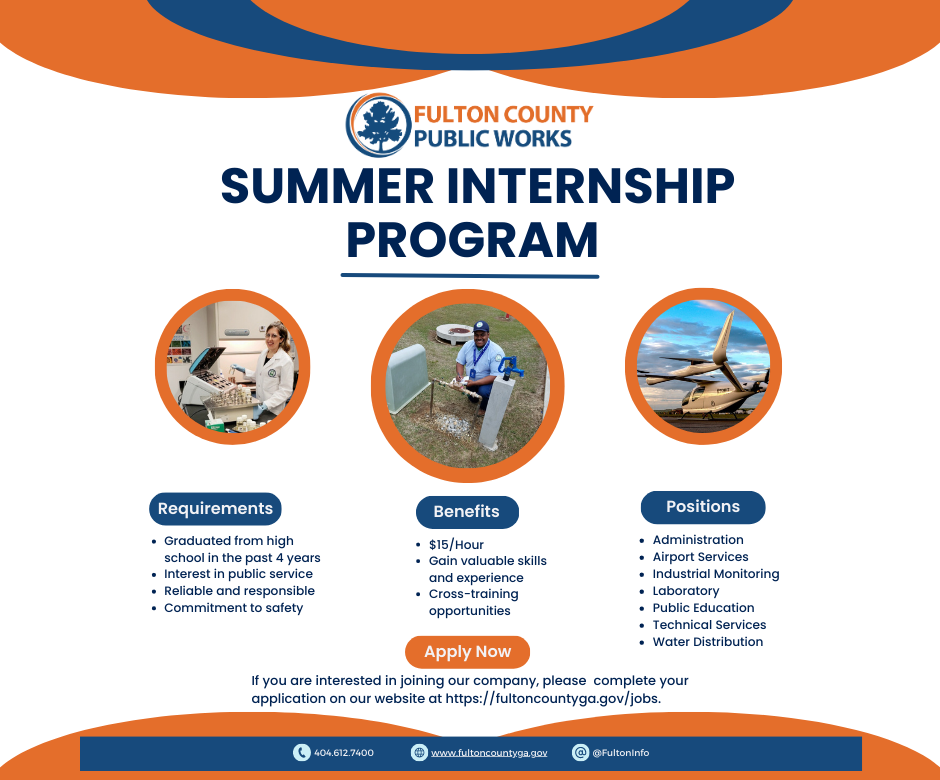 public works
water and sewer maps
public works
publications and reports
ESTABLISH NEW WATER OR SEWER SERVICES
South Fulton Wastewater Capacity
public works
connections newsletters